MIAMI, Florida (CNN) -- Miami police issued a plea for information Saturday after at least one person with an assault rifle opened fire on a crowd of people on a streetcorner Friday night, killing two teens and wounding seven other people.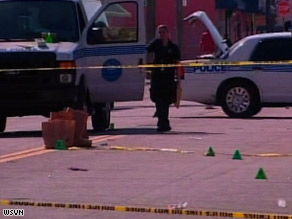 Evidence markers dot the Miami street where nine people were gunned down with an AK-47 Friday night.
"We need the community to come together, someone come forward and give us a tip," Miami Police Officer Kenia Alfonso told CNN.
"There are a lot of people in that area. Someone must have seen something, someone must know who could've done this horrific crime."
Alfonso said two teens, ages 16 and 18, died in the attack, which broke up a game of craps in front of a grocery store about 9:50 p.m. Friday in the city's Liberty City neighborhood.
Five of the shooting victims were still in the hospital Saturday night, according to CNN affiliate WSVN.
Others told WSVN that a masked man with an AK-47 burst onto the scene and ordered everyone to the ground.
"Boy came round the corner; he was like, 'Get down,' and he just started shooting," 16-year-old victim Andrew Jackson told WSVN.

Watch as resident describes scene as "war zone" »
Six of the nine shot were current or former Northwestern Senior High School students, Alfonso said.
"It was like a war zone," resident Joan Rutherford told WSVN. "I witnessed this guy laying there with his face, looked like it was completely tore off. His eyes was all I could see, and he had a grip on some money and gasping and trying to lift his head up to say something."
Police Chief John Timoney said that at least one man with an AK-47 "discharged numerous rounds, then ran around the corner. There were some more rounds discharged there from an AK-47 and another weapon."
One of those wounded was in critical condition Saturday and undergoing surgery, Timoney said.
"We are convinced that because of the amount of people out here last night that there is somebody that knows the individuals or individual involved, and we need them to come forward," Timoney said, according to WSVN.

"These are weapons of war, and they don't belong on the streets of Miami or any other street in America," Mayor Manuel Diaz said.

Watch Miami residents call for stricter laws »
Alfonso said police did not know the motive for the shooting and had no suspects.
E-mail to a friend

CNN's Patty Lane contributed to this report.
All About Miami • Murder and Homicide