By Jim Spellman and Eric Marrapodi
CNN





COLORADO SPRINGS, Colorado (CNN) -- Disgraced evangelical Christian leader Ted Haggard sought drugs from a young male volunteer at his Colorado church and masturbated in front of him in a hotel room, apparently believing himself "invincible," the former volunteer says.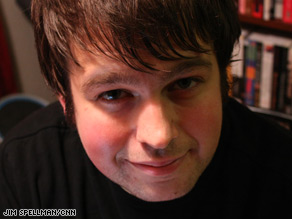 Grant Haas says disgraced pastor Ted Haggard's resurfacing is "reopening a lot of old wounds."
Grant Haas told CNN he began receiving text messages from Haggard in January 2006 that were "out of the ordinary" -- questions about what sexual positions he enjoyed, what drugs he used. He said the approaches culminated in a hotel-room encounter in July of that year, when he said Haggard offered him pills and masturbated in a bed they shared.
"He really thought he was invincible, because he used to say to me, 'You know what, Grant, you can become a man of God and you can have a little bit of fun on the side.' And I really think he believed that philosophy -- that he can do whatever he wants as long as he's praying and fasting on the side," Haas said.
Haas said Haggard's "insanity" increased after that encounter, and that his eventual discovery was "only a matter of time." Haggard was forced from the pulpit of his New Life Church in November 2006 amid allegations he used drugs and patronized a male prostitute in Denver, Colorado.

Watch Haggard's accuser speak out »
Haggard, who founded New Life Church in 1984, admitted receiving a massage from the man and buying drugs, but said he threw them away unused. At the time, he was president of the National Association of Evangelicals, a politically active network of churches representing 30 million parishioners.
Haas said he did not report Haggard's conduct to the church immediately because he feared retaliation. About a year after the scandal broke, he won a $179,000 settlement from the church under terms of confidentiality, but said he is coming forward with his story now that Haggard has resurfaced in a new documentary and a round of television interviews.
"If Ted Haggard wants to start another church in the Springs, by me staying silent, I feel like I'm allowing him to do that -- and I'm allowing him to possibly treat other young men the way he treated me," he said.
The church called the payment "compassionate assistance" to a former employee who was struggling. But Haas told CNN that church officials threatened to reclaim the funds if he went public. The church issued a statement Wednesday to CNN saying it would not do so.
"We will do the right thing for the right reasons even to our own hurt," the church's senior pastor, Brady Boyd, said in the statement. "We will uphold our end of the agreement even if he does not uphold his end of the agreement."
Don't Miss
Haggard referred CNN to a public relations firm when asked about Haas' account. But in a statement released through HBO, which produced the upcoming documentary "The Trials of Ted Haggard," he said he has sought forgiveness from Haas "for our inappropriate relationship."

Watch Haggard in the HBO documentary »
"Prior to that time, I discussed it with my wife, my therapist and our children," Haggard said. "Although there was no physical contact, I have regretted my irresponsible behavior. Once again, I ask Grant for his forgiveness as well as the people of the church."
HBO, like CNN, is a subsidiary of Time Warner. Haggard is scheduled to appear on CNN's "Larry King Live" on Thursday night.
Haas said he met Haggard in 2005 at New Life Church. He was 22 years old, far from home and struggling with his sexuality.
Haas said he was "kicked out" of a conservative Christian college and moved to Colorado Springs to attend a Colorado University branch. While there, he began attending Haggard's church, eventually becoming a volunteer in the pastor's office.
Shortly after he disclosed his struggle with his sexual identity, Haggard "lit up," Haas said. He said he expected Haggard to be "a friend who I could talk to about it." But he said Haggard -- whom he said was usually easygoing and joking, even about sex -- soon began asking him questions about sex and drugs.
"He could be the nice 50-year-old pastor who's godly, and the next minute he's this horny 16-year-old boy," he said. "I never knew what I was going to get, and part of me hoped the 16-year-old horny boy would go away and the Ted Haggard I knew -- that I started my relationship off with -- would come back."
Their alleged hotel-room encounter occurred in July 2006, in the mountain town of Cripple Creek, Colorado, during a church trip Haas said started off "comfortable at first." They went to a show, then went back to the room Haggard had rented with a single bed, Haas said.

Watch accuser speak of Haggard thinking he was 'invincible' »
Haas said Haggard wanted to play "truth or dare," and the game "just got weirder and weirder." By the end of the night, he said, the pastor had masturbated next to him in the bed and then expressed remorse for his actions.
"He just started weeping in bed and told me the Holy Spirit was really angry at him, that he shouldn't be doing this with me -- that I was supposed to be a pastor, and he wants to make that happen still."
When Haas awoke the next morning, he said Haggard was praying, speaking in tongues and asking him to pray with him. Haas said he did not report Haggard's conduct until after the pastor was gone, because many parishioners and church leaders "believed Ted was the right hand of God."
"He would talk to reporters. He was on CNN. He was on Fox News," Haas said. "He was so in the public spotlight, he was talking to President Bush."
Haas told CNN he has attempted suicide four times, has been seeing a psychiatrist and drinking heavily.
After Haggard's dismissal, New Life's leaders encouraged all who had been hurt by Haggard to come forward for help. Haas said he received church-paid counseling for more than a year after Haggard's behavior was exposed, and went back to the church for more help after having trouble getting his bills paid.
He got a lawyer, and the church agreed to pay him a $179,000 settlement -- a package Boyd told CNN on Monday was "to help him move forward." He said he advised Haas not to go public, because "it wasn't going to help him or the church's healing -- plus it was in violation of the agreement we signed with them."
Haas said he taped a phone conversation with Haggard as he was considering a lawsuit. He shared that recording with CNN. In it, a man who sounds like Haggard acknowledges he wasn't "an honorable pastor" -- but urges Haas to forgive him, "drop this thing and move on."
"The bottom line is I did what I did as a grown man," the man says. "And if you want to punish people, then that's the life you're going to live. You'll try to punish people, and people will try to punish you. I just don't think that's a good life."
CNN has so far been unable to confirm the authenticity of the recording or whether it had been edited. Haggard would not comment to CNN.
He told talk show host Oprah Winfrey on Wednesday that he contemplated suicide after his conduct was discovered, and said he does not consider himself to be gay.
"I do believe that I don't fit into the normal boxes," he said. "I do think there are complexities associated with some people's sexuality."

But Haas said he wished Haggard would return to obscurity.
"He's reopening a lot of old wounds -- not only me, but other families at New Life Church," Haas said. "He's coming back and he's gonna bash the church, bash a lot of the people who support him, and that's why I think he just needs to live life in quiet."
E-mail to a friend

All About Ted Haggard • New Life Church • Colorado Springs