LOS ANGELES, California (CNN) -- A one-of-a-kind bicycle belonging to U.S. cycling legend Lance Armstrong was stolen from a team truck in California just hours after he rode it Saturday on the first day of a nine-day race.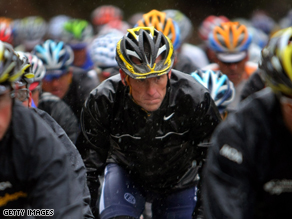 Lance Armstrong's bike was stolen after he competed in the first day of the Amgen Tour of California.
Cancer survivor and seven-time Tour de France champion Armstrong is racing in the Amgen Tour of California this week as he attempts another comeback after retiring from the sport in 2005.
Armstrong's first comeback came in 1998, two years after he was diagnosed with advanced testicular cancer that had spread to his lungs and brain. Doctors gave him a less than 50 percent chance of survival.
Armstrong announced the bike theft on his Twitter account Sunday morning and posted a photograph.
"There is only one like it in the world therefore hard to pawn it off. Reward being offered," he wrote.
The bicycle that was stolen is not the one Armstrong rides every day during the race. The stolen bike is used only for time trials, a race in which cyclists ride individually at staggered intervals over a set distance and try to get the best time.
The thieves took four bicycles from a truck Armstrong's Astana team had parked behind a hotel in Sacramento. The other three bicycles belonged to team members Janez Brajkovic, Steve Morabito and Yaroslav Popovych, Astana said.
Armstrong, 37, won the Tour de France, considered the premier bicycle race in the world, a record seven times from 1999-2005.
The 750-mile Amgen Tour of California ends Sunday. It is the second major race in which Armstrong has participated since announcing his comeback in September.
He raced last month in the Tour Down Under in Australia, finishing 29th.
Armstrong said he is aiming for another Tour de France victory this summer and was not expected to contend in the Australian race, which he used to gauge his fitness level after more than three years out of the saddle.
E-mail to a friend

All About Lance Armstrong • Cancer • Crime