From Deborah Brunswick and LaNeice Collins
CNN





NEW YORK (CNN) -- The founder of an upstate New York TV station aimed at countering Muslim stereotypes has been arrested on suspicion of killing his wife, who was beheaded, authorities said.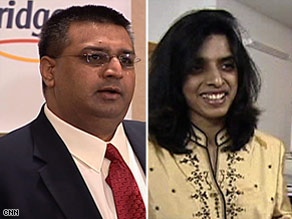 Muzzammil Hassan has been charged with murder in the death of his wife, Aasiya Hassan.
Muzzammil Hassan was charged with second-degree murder after police found the decapitated body of his wife, Aasiya Hassan, at the Bridges TV station in the Buffalo suburb of Orchard Park, said Andrew Benz, Orchard Park's police chief.
Hassan was arrested Thursday.
His wife filed for divorce February 6, and police had responded to several domestic violence calls at the couple's home, Benz said.
On Monday, Benz told CNN that Hassan went directly to the police station after his wife's death Thursday and confessed to killing her. However, Benz on Tuesday denied that he'd said Hassan confessed.
Hassan told Orchard Park police his wife was dead, led officers to her body and was arrested Thursday, Erie County District Attorney Frank Sedita III told CNN on Tuesday. Hassan is scheduled to appear in court Wednesday.
Attempts to reach an attorney for Hassan were unsuccessful Monday, and his family didn't return calls from CNN.
He had two children, 4 and 6, with his wife. He had two other children, 17 and 18, from his previous marriage.
He launched Bridges TV, billed as the first English-language cable channel targeting Muslims inside the United States, in 2004. At the time, Hassan said he hoped the network would balance negative portrayals of Muslims following the attacks of September 11, 2001.
The station's staff is "deeply shocked and saddened by the murder of Aasiya Hassan and the subsequent arrest of Muzzammil Hassan," a statement from Bridges TV said.
"Our deepest condolences and prayers go out to the families of the victim," the statement said.
E-mail to a friend

All About Orchard Park • September 11 Attacks • Murder and Homicide