NEW ORLEANS, Louisiana (CNN) -- A grand jury has indicted four people in the shooting death of a woman during what police say was a Ku Klux Klan initiation rite in the Louisiana woods, St. Tammany Parish prosecutors said.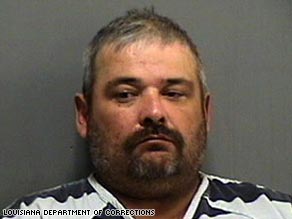 Raymond "Chuck" Foster is reputed to be the leader of the Klan Group. He was among the four indicted.
Raymond "Chuck" Foster, 44, was indicted on second-degree murder charges Wednesday in the November death of Cynthia Lynch, 43, of Tulsa, Oklahoma. If convicted, he faces a maximum sentence of life in prison, said Rick Wood, spokesman for the St. Tammany Parish district attorney's office.
"That's what he was charged with," Wood told reporters on Wednesday. "The grand jury agreed with that charge."
Two other men, including Foster's son, Shane Foster, were indicted on a count of obstruction of justice, and a woman, Danielle Jones, was indicted on one count of being an accessory after the fact.
Wood said Thursday Foster's case was assigned to one judge and the others' cases were assigned to another. Foster is scheduled to be arraigned March 3, he said, and the others are set for arraignment next week.
Eight people initially were arrested in the case. The remaining four were not indicted.
"Haven't seen one like this," Wood said Wednesday. "We've had a lot of high-profile cases, but not one like this. ... As (district attorney) Walter Reed said, it will be to the max. They will be prosecuted to the max."
Authorities said Lynch was recruited over the Internet and took a bus to Slidell, Louisiana, where she was met by two Klan members. They then went to a campsite in the woods near Sun, Louisiana, about 60 miles north of New Orleans, where they met other members of the group, police said.
During the initiation rite, members of the Klan group, which calls itself the Sons of Dixie, shaved Lynch's head, according to Capt. George Bonnett of the St. Tammany Parish Sheriff's Department and Sheriff Jack Strain, who spoke to CNN in November.
After 24 hours of drills, including chanting and running with torches, she asked to be taken to town. An argument began, authorities said, and the group's leader, Raymond Foster, pushed Lynch to the ground and shot her without warning.
Lynch apparently wanted to leave because she was homesick, investigators found after talking to her family members.
After the shooting, "Foster, we believe, removed a knife from his pocket and rolled over the victim and began a process of trying to remove the bullet from her body ... because he was trying to destroy evidence where law enforcement would not be able to piece these things together," Strain said.
Police believe other members of the Sons of Dixie helped cover up the slaying on Foster's behalf, Strain said at the time, including burning some of Lynch's personal items.
"We're up to the challenge," Wood told reporters after the indictments were handed up Wednesday. "This office is ready to proceed and take care of business."
Authorities received the initial tip about the slaying from a convenience store clerk, after two group members went into the store and asked him if he knew how to get bloodstains out of their clothes. The clerk told them he did not, then called police after they left.
Officials tracked down those two members and arrested them, then arrested others at the campsite and Foster. All the members surrendered without incident, police said.
Investigators found Confederate battle flags, Ku Klux Klan banners, five Klan robes and an Imperial Wizard robe at the campsite, authorities said. Lynch's body was found under loose brush along a road several miles from the campsite.
Raymond Foster has a history of Ku Klux Klan activity dating back seven years, according to the Southern Poverty Law Center, a Montgomery, Alabama-based organization that tracks hate groups.
E-mail to a friend

All About Ku Klux Klan • Criminal Investigations