From Susan Candiotti
CNN National Correspondent





(CNN) -- After almost 10 months, the FBI has zeroed in on a suspect in the case of missing Florida pilot Robert Wiles, who may have been kidnapped for ransom.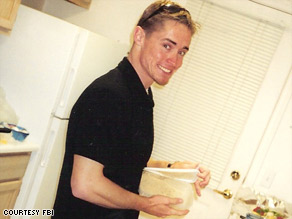 Missing Florida pilot Robert Wiles is thought to have been kidnapped for ransom.
"We're close to solving the case," said FBI special agent David Couvertier. He would not elaborate.
Agents also would not identify the suspect, and they said the person is not in custody. Investigators would only reveal that the "key suspect" is in Florida, either in Orlando, Lakeland or Melbourne.
"They're holding that back in hopes of getting additional information," said Couvertier.
The FBI says it's also looking at several persons of interest in those same three Florida cities.
Wiles, 27, was last seen in the family's aircraft maintenance business, National Flight Services, at Lakeland Linder Regional Airport on April 1, 2008.
The day Wiles disappeared, he left behind his bags, his computer, and even his car. His father says the next day, Wiles was supposed to be on a flight out of Orlando. He never showed up.
Two days after he vanished, Wiles' father, Thomas, received a ransom note. It demanded money and threatened to harm Robert Wiles if the terms weren't met.
Wiles' parents said they tried to comply but heard nothing back.
Nearly a year later, the FBI says their investigation shows that those involved "were very familiar with Robert's work, Robert's personal information and had knowledge of his parent's personal affairs."
Agents say they've tracked down leads in nine U.S. cities and as far away as Thailand where National Flight Services also does business. The Ohio-based company services aircraft in 50 countries and has been in business since 1972.
Investigators are reaching out to the public in hopes of sparking any additional information about Wiles to "close the loop," Couvertier said.
Investigators want to talk with "people who knew about his work routine, who might know someone who was obsessed with him, who was upset or jealous of him, or complained about him, anything that might be helpful," said Couvertier.
Wiles' parents told CNN they hope their son Robert is still alive.
"That is our hope until proven otherwise, ' said his mother, Pamela. "We don't know what happened to him. We don't know where he is. We just hope somebody will call and tell us what their needs are," she added.
"Sometimes, I stay up late and get up early and try to come up with any scenarios to make sense of this," said Wiles' father.
"I have my very low moments when I think I'll never see him again, " he added.
Occasionally, Wiles' mother says she plays back a voicemail message her son left her shortly before he disappeared. It said "Hey, mom. It's Robert. I just wanted to call and thank you for sending that stuff down to me. And I hope you have a good weekend, ... and I'll talk to you later."
"I still listen to it, and it breaks my heart," said Pamela Wiles.
The Wiles are still offering a $250,000 reward for information about their son and arrest of those responsible for his disappearance.
"But Tom and I don't think you can put a dollar on his head," said Pamela Wiles. "We want to provide them with security and a new life, if that's what they need," she added.
His father doesn't think whoever is responsible is working alone. He says his son is too strong to have left willingly or without knowing who his alleged captors are.
Anyone with information is asked to contact the FBI.
Wiles' parents have a message for the FBI's unidentified suspect.
"I would say to him 'come forward and tell the truth and we hold no personal animosity,'" said Pamela Wiles.
"Someone made a bad mistake. It's up to God to forgive him."
E-mail to a friend

All About Florida • Federal Bureau of Investigation