By Jim Kavanagh
CNN






(CNN) -- People expressed fear leavened by resolve to carry on Wednesday in the rural southern Alabama area terrorized Tuesday by gunman Michael McLendon, who killed 10 people before fatally shooting himself.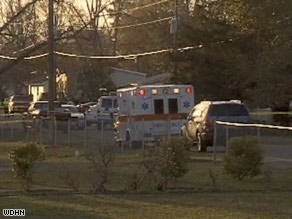 An ambulance rushes to the scene of the multiple shootings in Samson, Alabama, on Tuesday afternoon.
Sandy Morris and her young daughter narrowly missed being caught in the gunfire in Samson, where five of the victims were killed at a house near Morris' hair salon.
"My little girl and I had just walked across from the feed store. I had gone over to buy her a Mountain Dew, and when we got back in I had made it back to my dryer chair and I opened the can and we heard all these shootings," Morris said.
"We ran to the front to see what was going on," said hairdresser Tanya Crews. "The man from the Feed and Seed store stopped the police and told him what type of vehicle the gunman was on, and he took after him."

Watch what investigators are looking for »
The women locked the doors to the shop and stayed inside with their clients for about 20 minutes, until it seemed safe to go outside, Crews said.
"We didn't know where he was, and we decided it was just safer," she said.
"We were all frightened," Morris said, beginning to weep. "I mean, we had never in our life had anything like that to happen."
Don't Miss
Still, Morris got up Wednesday morning and opened her salon Sandy's On Main in Samson, population 2,000, at the usual time.
"I just knew the good Lord was going to look after me today like he did yesterday," said Morris, who knew some of the victims. "I truly believe that God's hands were covering us yesterday because we had just gotten back here and the guy was just coming through town shooting, and we were just one of the lucky ones that didn't get hurt."
Area residents were shocked that such mayhem should occur in their area, but they chalk it up to the state of the world.
"You watch the news all the time and you see things like this happening up in the bigger states like Texas and California, but here in our little community you would never expect anything like this to have happened," said Nell Herring, owner of Granny's Country Kitchen restaurant in tiny Kinston, where alleged gunman Michael McLendon lived with his mother, Lisa, whom police say he also killed. "It's just a tragedy. It's terrible.

Watch the mayors of Kinston and Samson relate towns' shock »
"It makes me wonder now when I get up in the morning. It's just like me here in my restaurant: Who's to say someone's not going to come into my restaurant and start shooting," said Herring, one of Morris' hairdressing clients. "When you get up in the morning and leave your house, who's to say that you're going to make it back alive?"
Gunfire is nothing unusual in rural southern Alabama, said Kenneth Smith, a neighbor of McLendon's. But he said the amount coming from around his neighbor's home was noticeable.
"We knew that he liked guns," Smith said. "Every couple of weekends or so we could hear gunshots out in his backyard. Just bam, bam, bam. A lot of shooting."
There are hunters around the rural area, but "to hear a bunch of shooting like that is pretty unusual," he said.
Smith did not know Michael or Lisa McLendon.
"Lived next door for five years. We've seen him in the yard maybe once or twice," Smith said, noting, "When we say 'neighbors,' they're more than a quarter of a mile down the road."
McLendon seemed to be "a cool guy," former high school classmate Cecil Knowles told the Dothan Eagle newspaper. "I don't know what tipped his lid."
Samson Mayor Clay King said he knew McLendon for years.
"I coached him in both T-ball and Little League baseball along with my two sons," he said of the shooter.
McLendon had briefly been employed as a police officer in Samson, but had failed to complete "required training" at a police academy in Montgomery, Alabama, in 2003, authorities said Wednesday. He had no criminal record, they said.
McLendon worked nearly two years at food manufacturer and distributor Kelley Foods in Elba, about 25 miles north of Samson. He quit last week, the company said in a statement. The company didn't specify what his position was but said that he was a "reliable team leader" who was well liked.
Smith said the rampage confirms his deteriorating view of the world.
"We've been thinking for years that it's getting to be a really screwed-up place, the world in general. I mean, look at the thing in Germany this morning," he said, referring to a similar shooting frenzy Wednesday that left at least 17 people dead.
"All we can do is go on," Smith said. "We're not going to take any more special protection. Here this thing happened, and we weren't even aware that this person was going to do what he did."

Watch how the rampage played out »
Herring and Morris are not letting their fears and unease change their way of doing business.
"I think people will probably be more cautious when they get out at different places, because you never know," Morris, the hairdresser, said. "I know I will. I'm keeping my eyes and ears open. You can't just work all day with your door locked."

Herring feels the same.
"They say you can't go through your life being afraid," Herring said from her restaurant. "You gotta keep going. You just got to let the Lord take care of you and look after you."
E-mail to a friend

All About Alabama • Murder and Homicide • Police