(CNN) -- American financier R. Allen Stanford and his wife owe back taxes, penalties and interest of at least $226.5 million, the IRS said in court documents filed in Dallas, Texas.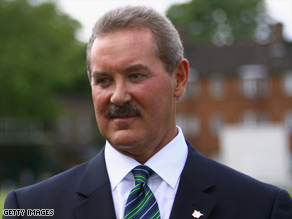 The IRS says Robert Allen Stanford owes taxes, penalties and interest of at least $226.5 million.
The final total could be even higher because the Stanfords have not filed their income tax return for 2007. The IRS says they owe $110 million in back taxes, $55.8 million in penalties and $60.7 million in interest for the 1999 through 2003 tax years.
The Securities and Exchange Commission has said that Stanford was behind "a fraud of shocking magnitude." FBI agents served Stanford with SEC papers accusing him and three of his companies of orchestrating a $9.2 billion investment fraud scheme.
With the filing, the IRS joins thousands of other creditors in the case who are seeking a crack at Stanford's remaining assets. The documents were filed in U.S. District Court on Friday, but weren't released until Monday.
In September, Forbes magazine named Stanford No. 205 in its 400 Richest Americans article, saying he was worth more than $2 billion.
No federal charges have been filed against Stanford, but he does face civil charges.
Don't Miss
Investigators have charged the chief investment officer of a firm headed by Stanford with obstructing a government proceeding.
An SEC complaint alleges that the fraud centered on a certificates-of-deposit program in which Stanford International Bank promised "improbable and unsubstantiated high interest rates."
Stanford International Bank, based in Antigua in the Caribbean, allegedly acted through a network of Stanford Group Company financial advisers to sell at least $8 billion of certificates of deposit to investors.
The bank boasted a unique investment strategy that it said had allowed it to receive double-digit returns on its investments for the past 15 years, the SEC said.
Stanford is the tycoon who bankrolled the Twenty20 Super Series cricket competition in the West Indies last year. He has also contributed millions of dollars to the West Indies Cricket Board in an attempt to boost their flagging fortunes.
But after accusations arose against Stanford, the England and Wales Cricket Board terminated all contractual links with him. The governing body said it would not play any further Stanford Twenty20 matches in Antigua and was shelving plans for the Quadrangular Twenty20 events, which were to start at Lord's in May.
Under a deal struck between the England Cricket Board and Stanford last summer, England was to play four further $20 million matches in the Caribbean, while the proposed Quadrangular events were to take place annually from 2009-11, with each edition worth about $9 million.
E-mail to a friend

All About Allen Stanford • Internal Revenue Service • U.S. Securities and Exchange Commission • Antigua and Barbuda