By Dick Uliano
CNN





WASHINGTON (CNN) -- Are circus elephants abused? Or are the elephants under the big top healthy and thriving in a caring environment?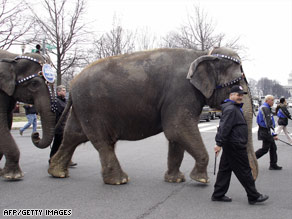 Ringling Bros. and Barnum & Bailey elephants pass the U.S. Capitol in a parade this week in Washington.
That's the issue a federal judge must decide in a 9-year-old legal dispute pitting four animal rights groups against the nation's most famous circus, Ringling Bros. and Barnum & Bailey.
Closing arguments will be heard Wednesday in the case in which the circus is accused of mistreating its 54 Asian elephants, which are protected under the 1973 Endangered Species Act.
Under the law, endangered species cannot be "harmed, harassed, wounded, injured or killed."
The circus "is in fact in violation of the federal Endangered Species Act as a result of their routine practices that they use on the elephants," according to Tracy Silverman, general counsel for the Animal Welfare Institute.
Silverman alleges that the circus uses "bull hooks" and electrical prods called "hot shots" to train and manage the elephants and that handlers chain the elephants for extended periods of time. These practices violate federal law, Silverman says.
But the circus says that no evidence was presented at the six-week trial that such tools as bull hooks and hot shots are used on elephants.
Don't Miss
"Ringling Bros.' practices are well known to the federal government who regulates their business," says Ringling Bros. attorney Michelle Pardo.
The tools the circus uses to handle animals "are time-tested, approved and commonly used," she added.
Pardo insists the trial evidence "showed the elephants are healthy, well cared for and they're thriving in Ringling Bros. care."
Besides the Animal Welfare Institute, other groups involved in the suit are the American Society for the Prevention of Cruelty to Animals, the Fund for Animals and Born Free USA, acting with the Animal Protection Institute.
While the animal rights groups allege the circus "severely mistreats and abuses" elephants, the circus says the animals are not only healthy but "really do benefit from the enrichment that the circus provides."
No immediate ruling is expected from the judge.
E-mail to a friend

All About Ringling Bros. and Barnum & Bailey Circus • Animal Rights