MEXICO CITY, Mexico (CNN) -- The Mexican military has arrested the son of a top drug cartel lieutenant, the government said Thursday.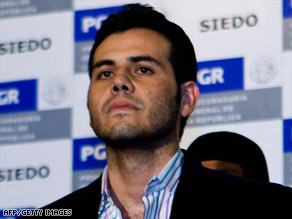 Authorities present suspect Vicente Zambada Niebla to the press Thursday in Mexico City.
Vicente Zambada Niebla, known as "El Vicentillo," was arrested Wednesday along with five subordinates, Mexico's defense department and attorney general's office said in a joint release. The men were acting suspiciously and had military-grade weapons, officials said.
Zambada is the son of Ismael Zambada García, known as "El Mayo." The elder Zambada is a top lieutenant in the Sinaloa cartel, headed by Joaquin "El Chapo" Guzman, officials said.
Senior defense official Luis Arturo Oliver Cen and Jose Ricardo Cabrera Gutierrez, a top official with an attorney general's task force on terrorism and security, announced the arrest in Mexico City.
Guzman, the alleged cartel leader who escaped from a Mexican prison in 2001, was named in this year's Forbes magazine report on the world's billionaires. He ranked 701.
Authorities on both sides of the U.S.-Mexico border blame Sinaloa and other cartels for a surge in violence in the region.
Mexican Attorney General Eduardo Medina Mora expressed outrage at Forbes for listing a major drug suspect.
Don't Miss
About 6,500 people died in the drug war in Mexico last year, Mexican President Felipe Calderon said last week.
Defense official Oliver said authorities confiscated three rifles, three luxury automobiles, 67,480 pesos ($4,845) and $866 in U.S. currency.
A video on the Universal newspaper Web site shows a dark-haired Zambada and other men being led away in handcuffs. Zambada sports long sideburns, beard stubble, a black sports coat and a striped shirt.
E-mail to a friend

CNN's Melanie Whitley contributed to this report from Atlanta, Georgia.
All About Mexico • Felipe Calderon • Drug Trafficking