From Jason Kessler
CNN





NEW YORK (CNN) -- Three professors and a former professor at Columbia University's Teachers College received hate mail this week, the New York Police Department said. It's the campus that was shaken by several bias crimes directed at black and Jewish professors in 2007.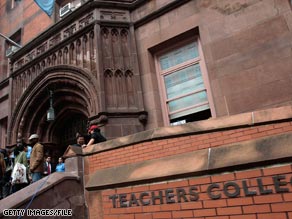 Columbia University's Teachers College is once again the target of a hate campaign.
Three professors received manila envelopes Tuesday with images of swastikas in them.
The fourth, a former professor who is an African-American, was sent a manila envelope containing an image of a noose, according to NYPD deputy commissioner Paul Browne.
Among those receiving a swastika image was Elizabeth Midlarsky, a Jewish psychologist who has studied psychological principles in the context of the Holocaust, police said.
In 2007, her office door was spray-painted with a swastika. (A swastika is the right-angles cross symbol used on Nazi Germany flags).
The NYPD Hate Crimes Unit is leading the investigation into the incident. No arrests have been made.
"The TC community deplores these hateful acts, which violate every Teachers College and societal norm," said an e-mail Wednesday to faculty and students from the college's president, Susan Fuhrman; and dean, Tom James.
No arrests were been made in the 2007 incidents. Police declined to say if they believe there is a connection between those cases and the mailings this week.

E-mail to a friend

All About Columbia University • Hate Crimes • The Holocaust