(CNN) -- A father who shot and killed his five children in their Washington state home before killing himself had argued with his wife over another man before the shootings, police said.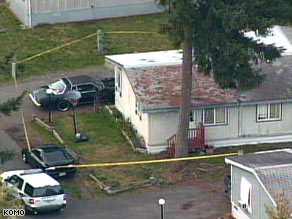 Authorities found five children, ages 7 to 16, dead in their Pierce County, Washington, home Saturday.
Authorities found the children, ages 7 to 16, dead in their Pierce County home Saturday afternoon, and the father, James Harrison, was found dead inside his SUV in adjacent King County, Detective Ed Troyer told CNN Radio Sunday. Police said Harrison committed suicide by shooting himself with a rifle.
Troyer said that on Friday night, Harrison and his 16-year-old daughter found his wife with another man. The couple argued, and then Harrison and his daughter returned to the family home near Tacoma without his wife, Troyer said.
At the home, Harrison and the children held a family meeting with other relatives, Troyer said.
The relatives left, and later that night Harrison shot all five of his children -- four girls and one boy -- as they slept in their beds, Troyer said.
The children's mother was located after the shootings and was being counseled by a chaplain, Troyer said.
Don't Miss
The family massacre comes just two months after a Los Angeles, California, father killed his wife, their five young children and himself after he and his wife were fired from their jobs.
And police are still investigating another family shooting last week, in which a Santa Clara, California, man gunned down six of his family members -- killing two adults and three children and wounding his wife -- before committing suicide.

E-mail to a friend

All About Murder and Homicide • King County