By Alan Duke
CNN





LOS ANGELES, California (CNN) -- A defense attorney used the courthouse steps Tuesday for a blistering attack against the California attorney general for bringing conspiracy charges against his client, Howard K. Stern, in the Anna Nicole Smith case.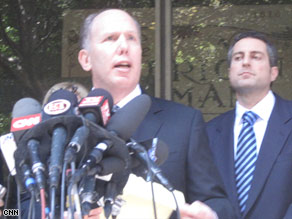 Attorney Steve Sadow said Tuesday that charges against Howard K. Stern, right, are "baseless."
Stern, Smith's longtime partner and attorney, appeared before a judge Tuesday on charges of conspiring with two doctors to provide drugs to Smith before her fatal overdose in 2007. He did not enter a plea but agreed to an arraignment date next month.
Declaring Stern "innocent of baseless charges," attorney Steve Sadow said after the short hearing that "no one enabled Anna."
"Anna made her own choices and decisions," Sadow said. "No one told her what to do and when to do it."
California Attorney General Jerry Brown responded that Sadow's "rhetoric is just smoke and mirrors, and is completely out of line."
"The fact is that the Bureau of Narcotics, the Drug Enforcement Agency, the State Board of Medical Examiners and the Los Angeles district attorney have all validated this prosecution," Brown said in a statement to CNN. "These people are whistling in the dark if they think this accusatory rhetoric is going to save them."
Stern, Dr. Khristine Eroshevich and Dr. Sandeep Kapoor were charged last month in California with several felonies, including conspiring to furnish controlled substances, unlawfully prescribing a controlled substance and obtaining fraudulent prescriptions from June 2004 through January 2007, only weeks before Smith's death.
Smith, 39, was pronounced dead February 8, 2007, after being discovered unconscious in her room at the Seminole Hard Rock Hotel and Casino near Hollywood, Florida. A coroner said she died from an accidental overdose of prescription drugs.
In announcing the charges last month, Brown said the doctors and Stern devised a plan to use fake names so Smith could be prescribed "thousands of pills." The former Playboy playmate and reality TV star was drugged "almost to the point of stupefaction," Brown said.
Don't Miss
Sadow said Brown "should simply be ashamed of himself" for using Smith's death for his own purposes.
"Despite what Attorney General Brown claims, he doesn't care about Anna Nicole Smith," Sadow said. "He has chosen to sacrifice Anna's medical privacy to further his own political agenda."
Sadow said Stern relied on the "good judgment" of Smith's doctors to prescribe drugs for "valid and legitimate medical reasons."
"Howard loved Anna with all of his heart and would never have done anything intentional to harm her," Sadow said.
Officials said that both prescription and over-the-counter drugs were found in Smith's system, including three antidepressant or anti-anxiety drugs. Human growth hormone and chloral hydrate, a sleep medication, also were found in toxicology tests, officials said.
Kapoor and Eroshevich also were charged with obtaining a prescription for opiates by "fraud, deceit or misrepresentation." And each was charged with one count of obtaining a prescription for opiates by giving a false name or address, prosecutors said.
Eroshevich, who was also in court, did not enter a plea.
Eroshevich's attorney, Adam Braun, said Smith's treatment was complicated by the fact that she didn't want to return to the United States for treatment or hospitalization.
"Under those circumstances, Dr. Eroshevich had two choices: to turn her back on her patient or to do her best under some difficult circumstances," Braun said. "She chose the latter."
He said his client's "actions were all done with the best interest of the patient in mind."
Kapoor was not in court, and his attorney did not speak.
The case for all three defendants was set for another hearing May 13.
Florida prosecutors said last month that they are taking a new look at Smith's death to see whether recent evidence California investigators had gathered might cause them to open an inquiry.
The Broward County, Florida, state attorney's office never opened an inquiry into Smith's death but did assist the Seminole police in their investigation.
E-mail to a friend

CNN's Jack Hannah contributed to this report.
All About Howard K. Stern • Anna Nicole Smith • Los Angeles