(CNN) -- Allen Stanford, the Texan billionaire accused of a $9.2 billion fraud by U.S. regulators has denied any wrongdoing in a tearful interview in which he threatened to punch his questioner in the mouth.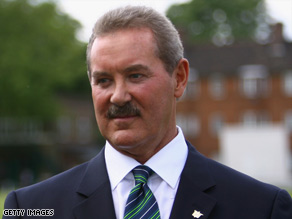 Allen Stanford cried during the interview when discussing his fall from grace.
"I would die and go to hell if it's a Ponzi scheme," Stanford, ranked at no. 205 in Forbes magazine's list of 400 Richest Americans with assets of more than $2 billion, told ABC News.
"Baloney. Baloney ... It's not a Ponzi scheme. If it was a Ponzi scheme, why are they finding billions and billions of dollars all over the place?"
The assets of Stanford and his financial groups, based in Antigua in the Caribbean, are frozen while the U.S. Securities and Exchange Commission investigates allegations he ran "a massive Ponzi scheme," a pyramid scheme in which new investors' money is stolen to pay profits to existing clients.
The bank boasted a unique investment strategy that it said had allowed it to receive double-digit returns on its investments for the past 15 years, the SEC said.
Stanford said he was forming a legal team to fight federal charges that he expects to come in the next two weeks. Investigators have already charged the chief investment officer of a firm headed by Stanford with obstructing a government investigation.
ABC said Stanford, who has bankrolled cricket in the Caribbean and England, was "near tears" during the interview and cried at times as he discussed his fall from grace.
"I'm the maverick rich Texan where they can put the moose head on the wall. And that's the only reason they went after me," Stanford said. "I'm fighting for my survival and for my integrity.
"Who gets the publicity? We get the publicity. I get the publicity because I'm the guy that's flamboyant, the fun guy to write about," he added.
Stanford said the seizure of his assets had left him with little money or even clothing. He had to fly on a commercial plane for the first time in nearly 20 years after the government took his six private jets.
"They make you take your shoes off and everything, it's terrible," he complained about airport security that seemed to surprise him.
His case is the highest-profile alleged fraud scheme to emerge since Wall Street financier Bernard Madoff was charged with carrying out a $50 billion Ponzi scheme in December.
Don't Miss
"Bulls**t. That's bulls**t," Stanford said when asked if his case was similar to that of Madoff. "It makes me madder than hell and it touches the core of my soul."
When questioned about reported links to alleged money laundering for a Mexican drug cartel, Stanford denied the charges and even threatened his interviewer.
"If you say it to my face again, I will punch you in the mouth," he said before retracting the threat.
"No, I'm not going to punch you in the mouth. But I'm just saying that's an absolutely, absolutely ludicrous thing to say. Anybody who knows me knows that's the case.
"Any bank, any organization, financial organization the size we are, you cannot be sure, a hundred percent sure that every customer you have is clean," he said.
Stanford did admit though that the U.S. government seized $3 million in drug money at his bank several years ago.
E-mail to a friend

All About Allen Stanford • Internal Revenue Service • U.S. Securities and Exchange Commission • Antigua and Barbuda