ATLANTA, Georgia (CNN) -- A federal appeals panel has rejected the application of Georgia death row inmate Troy Davis for a new trial.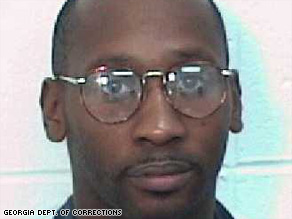 Troy Davis' case has earned the support of leaders including the pope and former President Jimmy Carter.
A three-judge panel of the 11th Circuit Court of Appeals granted a stay of execution for Davis in October and agreed to hear his petition for a new trial. The panel voted 2-1 to deny Davis' application.
Davis, 40, was convicted in 1991 of murdering of an off-duty Savannah police officer two years earlier.
Davis has always maintained his innocence in the killing, and since his conviction, seven of the nine witnesses against him have recanted their testimony. Additionally, another man has allegedly admitted to killing the police officer, Mark MacPhail.
Witnesses in the 1991 trial claimed Davis and two others were harassing a homeless man in Burger King restaurant parking lot when MacPhail attempted to help the man. Witnesses testified at trial that Davis shot MacPhail twice and fled.
But no physical evidence was presented linking Davis to MacPhail's death.
But the appeals court ruled that none of the recantations amounted to proving Davis' innocence.
Two of four eyewitnesses now say they didn't see the shooter, and testimony by two other eyewitnesses was unchanged. Two other witnesses changed their testimony, but it still conflicts with Davis', the court said.
"When we view all of this evidence as a whole, we cannot honestly say that Davis can establish by clear and convincing evidence that a jury would not have found him guilty of Officer MacPhail's murder," the court said.
"We are also unpersuaded by Davis' suggestion that his claim of innocence has not been and never will be heard," the court wrote. "As the record shows, both the state trial court and the Supreme Court of Georgia have painstakingly reviewed, and rejected, Davis' claim of innocence."
In denying Davis a new trial, however, the court continued the stay of execution for another 30 days to allow Davis time to file further petitions with the U.S. Supreme Court.
Davis lost an appeal to the Supreme Court last fall, and had been scheduled to die by lethal injection at the Georgia Diagnostic and Classification Prison in Jackson, Georgia.
Davis' case has garnered international attention, and leaders such as the pope, Archbishop Desmond Tutu and former President Jimmy Carter oppose his execution.
Other supporters include actress Susan Sarandon, singer Harry Belafonte, the musical group Indigo Girls and former and U.S. lawmakers Bob Barr and John Lewis.
E-mail to a friend

CNN's Tristan Smith contributed to this report.
All About Troy Davis • Capital Punishment • Mark MacPhail • Georgia