From Jim Spellman
CNN





LITTLETON, Colorado (CNN) -- Several thousand people poured into the amphitheater at Robert F. Clement Park Monday for an event memorializing the victims of the Columbine shootings on the 10-year anniversary of that tragic event.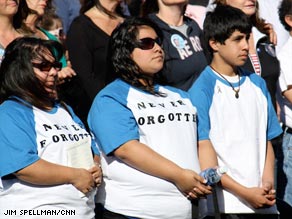 The memorial event ended with a video tribute to the 13 killed accompanied by "Somewhere Over the Rainbow."
Surviving victims, family members and current Columbine High School students as well as members of the community heard prayers, music, speeches and a videotaped message from former President Bill Clinton.
It was "a day that changed us forever," said Clinton, who occupied the White House on April 20, 1999.
Clinton said he was inspired by the courage of the Columbine community after the shootings.
"Ten years, 20 years. For many of you it will always feel like yesterday," Clinton said. "The strength and resolve of your small community has been a beacon of hope."
People dropped off flower bouquets and notes of sympathy at the Columbine Memorial, right next to the amphitheater.
Beyond the memorial is Columbine High School, closed for the day in honor of the 12 students and one teacher killed 10 years ago when two student gunmen went on a shooting rampage. Twenty-three students were wounded.
The massacre ended when Eric Harris and Dylan Klebold turned their guns on themselves.
Speaking on behalf of the 23 wounded students was former student Val Scherr.
Don't Miss
"We know now that there is life after tragedy," she said. "We are not victims. We are survivors."
Steve Poos-Benson, pastor of Columbine United Church, urged the gathering to draw strength from the tragedy and to give new meaning to the word "Columbine," rejecting the notion that the word is synonymous with school violence.
"The word Columbine means healing. The word Columbine means thriving," he said. "Shine Columbine, shine."
The names of the 13 killed in the shooting were read aloud by Frank DeAngelis, then, as now, principal of Columbine High School.
As the names were read, a group of white doves was released into the sky and bagpipes played "Amazing Grace."
The event concluded with a video tribute to the 13 killed accompanied by "Somewhere Over the Rainbow."
The names of Harris and Klebold were not mentioned during the event.
E-mail to a friend

All About Columbine High School • Dylan Klebold • Eric Harris • Littleton