(CNN) -- Two Florida deputies trying to arrest a man wanted in a domestic violence case were shot and killed Saturday by the suspect, who died in a shootout after a car chase into the next county.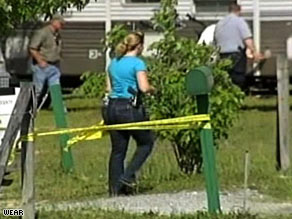 Police examine the scene where a domestic violence suspect engaged in a shootout with deputies.
Deputies Burt Lopez and Warren York traded gunshots with the suspect at about 1 p.m. at the Shoal River Gun Club in Crestview, Florida, said Okaloosa County Sheriff's office spokeswoman Nicole Wagner.
Joshua Cartwright, 28, had been involved in a domestic violence incident earlier in the day in Fort Walton Beach, Florida. It wasn't his first run-in with the law.
"I know we'd dealt with him in the past," said Wagner, who did not immediately have details of the earlier dealings.
Lopez and York were airlifted to Sacred Heart Hospital in Pensacola, Florida, about 50 miles southwest. Both were pronounced dead at the hospital, Wagner said.
Cartwright then was chased in his car into neighboring Walton County. He flipped his car at the end of the chase, then began shooting at deputies who returned fire and killed him, according to Wagner.
E-mail to a friend

CNN's Doug Gross contributed to this report.