By Philip Rosenbaum
CNN





(CNN) -- The mother of a 17-year-old Rochester, New York, high school student who vanished over the weekend on spring break in Myrtle Beach, South Carolina, says she did not give her daughter permission to go on the trip.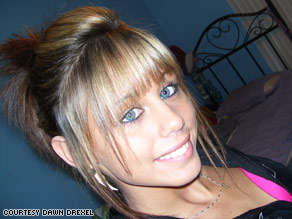 Brittanee Marie Drexel's mom says she thought she was at the beach in New York, not South Carolina.
In an appearance on HLN's Nancy Grace, Dawn Drexel said her daughter, Brittanee Marie Drexel, has never run away.
Drexel said the high school junior stayed in touch with her by phone, and she last spoke with Brittanee on Saturday afternoon.
"I asked her what she was doing and she says 'Oh, mom, I'm at the beach.' And it was an 80-degree day in Rochester so, of course, I thought maybe she was at the beach in Rochester with one of her girlfriends that she had said she was staying overnight," Drexel said.

Watch mom describe daughter's last call »
Drexel said she asked Brittanee to call her later and the girl agreed. "I said, 'I love you, Brittanee' and she says, 'I love you, mom.' And then we hung up the phone."

Brittanee is believed to have last been seen Saturday evening, though an unconfirmed sighting may have placed her at a restaurant on Sunday.
She was staying with friends at the Bar Harbor Hotel on North Ocean Boulevard, according to police reports.
E-mail to a friend

All About Missing Persons • South Carolina • Nancy Grace