NEW YORK (CNN) -- The mother of a 17-year-old girl who disappeared while on spring break in Myrtle Beach, South Carolina, has identified her daughter on grainy hotel surveillance video.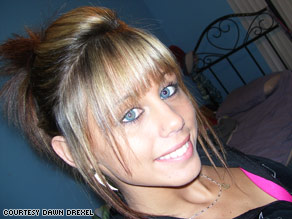 Brittanee Marie Drexel's mother on Friday confirmed it was her daughter seen in a hotel surveillance video.
"When I saw her profile it was confirmed," Dawn Drexel said Friday on "Nancy Grace."
Drexel's daughter, Brittanee, was last seen on Saturday, several days after she traveled to Myrtle Beach against her mother's wishes.
In the video, a girl wearing shorts and flip-flops walks in and later out of the doors of a hotel on Saturday evening. Brittanee Drexel supposedly was on her way to meet friends at another hotel nearby.

Watch her mom talk about spotting her »
Meanwhile, Myrtle Beach Police reportedly have shifted some search efforts about 40 miles to Georgetown County, based on tips. But there is still no sign of the high school junior from Rochester, New York.
Dawn Drexel said she had forbidden her daughter to go to Myrtle Beach, a popular destination for high school and college spring break. But Brittanee and her friends apparently drove the 850 miles to the coastal city anyway. Drexel said her daughter had about $100 with her.
Although they stayed in touch by phone and spoke on Saturday, Drexel said she believed the girl was calling from Rochester when she was actually in Myrtle Beach.
Drexel has now gone to the city where her daughter was last seen, helping in the search for Brittanee.
"We're going to all of the businesses and restaurants on Ocean Boulevard," Drexel said, but she admitted that she is concerned something may have happened to her daughter.

"I just have a gut feeling that because the stories don't match, things aren't making sense to me," Drexel said, referring to reported contradictions in the information Brittanee's friends have given police.
Authorities have not named any suspects or persons of interest in the case.
E-mail to a friend

All About Missing Persons • South Carolina • Law Enforcement