(CNN) -- A federal appeals court Friday lifted a stay that had blocked the planned deportation of accused Nazi guard John Demjanjuk, but U.S. authorities gave no indication they will rush to remove him.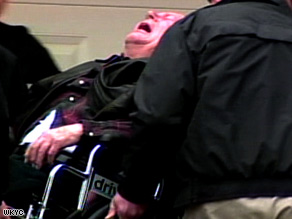 Immigration and Customs Enforcement agents remove John Demjanjuk from his home April 14.
Federal authorities noted Demjanjuk has not yet exhausted his appeals.
A three-judge panel of the 6th U.S. Circuit Court of Appeals in Cincinnati rejected arguments that flying Demjanjuk to Germany to stand trial for war crimes would amount to torture. In a four-page ruling, the court said the 89-year-old Cleveland man had not sufficiently made his case.
"Based on the medical information before the court and the government's representation about the conditions under which it will transport the petitioner, which include an aircraft equipped as a medical air ambulance and attendance by medical personnel, the court cannot find that the petition's removal to Germany is likely to cause irreparable harm sufficient to warrant a stay of removal," the ruling said.
"At most he has offered speculation that German authorities may not adequately attend to his medical needs while is in that country's custody."
Broadley has said Demjanjuk suffers from pre-leukemia, kidney problems, spinal problems and "a couple of types of gout."
In March the Ukrainian native was charged in Munich with 29,000 counts of accessory to murder stemming from allegations that he was a guard at the Sobibor Nazi death camp in Poland during World War II.
Demjanjuk in 1952 immigrated to the United States, where he worked in the auto industry in Ohio and lived quietly for many years.
After a failed prosecution of Demjanjuk in Israel, he was returned to the United States in 1993. The U.S. government's Nazi-hunting unit, the Office of Special Investigations at the Justice Department, persuaded the courts to strip him of his U.S. citizenship and has been trying to deport him.
"The U.S. government will continue to seek the removal of Mr. Demjanjuk to Germany," said Justice Department spokesperson Laura Sweeney.
Demjanjuk attorney John Broadley was not immediately available to comment on the ruling or indicate what action he may take next.
Federal officials note Demjanjuk's lawyers are likely to appeal to the full 6th Circuit Court or take their appeal to the U.S. Supreme Court.
Immigration and Customs Enforcement agents may wish to avoid a possible replay of their April 14 actions, when they removed Demjanjuk from his home and prepared to put him on a flight to Germany, only to be stopped in their tracks when the appeals court issued a last-minute stay. The immigration agents then had to return Demjanjuk to his home.
The appeals court, in a footnote to its ruling Friday, took a slap at the government, blaming federal officials for what the government lawyers had termed in a legal brief "a mad scramble" by Demjanjuk's lawyers on the date of the scheduled deportation.
"Any 'mad scramble' resulted from the government's refusal to give the petitioner's counsel any timing information," the court said. In obvious annoyance, the court added, "The government's opposition to the stay motion, moreover, omitted any reason for immediate removal."
Officials declined to comment on whether they would seek to avoid another rush to deport him.
E-mail to a friend

All About John Demjanjuk • Nazi Party • World War II