MIDDLETOWN, Connecticut (CNN) -- Police investigating the slaying of Wesleyan University junior Johanna Justin-Jinich discovered a composition notebook with a chilling entry, "Kill Johanna. She must Die," an arrest affidavit said.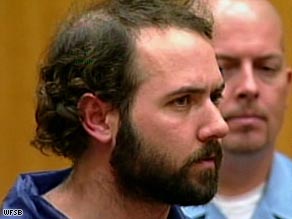 Stephen Morgan appears Friday in court, charged in the slaying of Wesleyan student Johanna Justin-Jinich.
The notebook is believed to belong to murder suspect Stephen Morgan, the affidavit said.
The entry is dated May 6 at 11 a.m., about two hours before Justin-Jinich, 21, was shot and killed at a Middletown bookstore near the Wesleyan University campus.
The entry also mentioned "seeing all of the beautiful and smart people at wes," adding, "I think it okay to kill Jews and go on killing spree at this school," the arrest affidavit quoted the composition book as saying.
Police discovered the composition book in a computer bag in the basement of Broad Street Books near a laptop computer that listed Morgan as its administrator.
The arrest affidavit was made public as Morgan, 29, appeared Friday morning in a Connecticut courtroom for a brief arraignment. His attorney, Richard Brown, said his client will plead not guilty to first-degree murder. Brown said Morgan's parents are "very surprised" that their son is accused of murder, saying it is inconsistent with the person they know.
Morgan stood silently in a blue jumpsuit as his bond was increased to $15 million. Afterward, his sister cried and was comforted by family.
Police launched a nationwide search for Morgan after Wednesday's shooting, but he turned himself in at the nearby Meriden Police Department at 9:14 p.m. Thursday and was transferred to Middletown.
Police said their searches also turned up a brown wig, eyeglasses, a dark baseball cap, a T-shirt, a laptop and a 9 mm semiautomatic handgun.
Police spoke briefly to Morgan immediately after the shooting, the arrest warrant said. He gave his name and a Colorado address.
Employees who were in the bookstore's basement said they heard a loud noise coming from the conveyor belt that is used to transport stock between the basement and the first floor.
Steven Hebenstriet, 27, said he saw a man do a somersault and then jump off the conveyor belt, the affidavit said. The man approached Hebenstriet, pointed a handgun at him, and said, "Don't say anything or I'll shoot," according to the affidavit.
Another witness, identified in the affidavit as Susan Gerdhart, 22, told police she heard loud popping sounds as she was paying for a salad in the Red & Black Cafe, in Broad Street Books.
Gerdhart told police she turned and saw smoke in the air and bullet casings on the ground. "She faced the suspect and saw him fire three more shots. Gerdhart noticed that the female behind the counter was no longer standing and the suspect was standing over the counter with a gun in his hand pointed at the floor," the affidavit said.
Gerdhart said she saw the suspect run out of the cafe through an opening behind the counter. When police arrived, Justin-Jinich was "moaning and shaking" on the floor behind the sales counter, the affidavit said, adding that she died later at Middlesex Hospital from "several gunshot wounds."
Morgan was one of several people who gathered Wednesday afternoon outside the bookstore cafe after Justin-Jinich was shot to death, a police source told CNN. Morgan gave his name to investigators, the source said.
At that early stage of the investigation, the source said, police had no reason to suspect Morgan.
Morgan's sister had urged him to turn himself in.
"Steve, turn yourself in right now to any law-enforcement agency, wherever you are, to avoid any further bloodshed," Diana Morgan said through the news media. "We love you, we will support you in every way, and we don't want anyone else to get hurt."
Police warned Thursday that Morgan might have been targeting Wesleyan University and the town's Jewish residents.
The slain Wesleyan student was Jewish, according to the Middletown mayor, but there was another connection between her and her alleged killer, authorities said.
In July 2007, the woman filed a harassment complaint against Morgan while the two were taking the same six-week summer course at New York University, school spokesman John Beckman told CNN.
The complaint, in which Justin-Jinich said she was receiving harassing e-mails and phone calls from Morgan, was filed with the university's public safety department toward the end of the course, Beckman said.
The public safety department brought in the New York Police department and, after conversations with Morgan and Justin-Jinich, the woman declined to follow up or press charges, Beckman said.
Beckman said the two were not living in the same student residence house during the course. Additional details were not immediately available.
Another law enforcement source told CNN that in one of the e-mails sent to Justin-Jinich, Morgan wrote, "You're going to have a lot more problems down the road if you can't take any (expletive) criticism, Johanna."

Middletown Mayor Sebastian Giuliano said the connection between Morgan and Justin-Jinich may "go back to Colorado." No further details were available.

Watch how the suspect and victim knew each other »
Middletown is a central Connecticut city with a population of about 48,000.
E-mail to a friend

CNN's Susan Candiotti, Ross Levitt and Gary Bender contributed to this report.
All About Shootings • Wesleyan University • Connecticut