ATHENS, Georgia (CNN) -- A wanted University of Georgia professor killed himself with a single gunshot to the head after he dug his own grave and covered it with brush, police said Tuesday.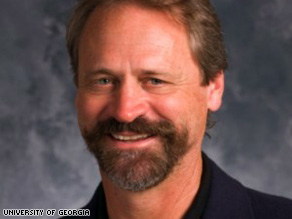 George Zinkhan, a professor at the University of Georgia, disappeared after the slayings of his wife and two others.
The manhunt for George Zinkhan ended Saturday when cadaver dogs discovered his body in Georgia's Clarke County, about a mile from where his red Jeep Liberty was found more than a week earlier, police said.
"Zinkhan's body was found in a small dugout area in the ground, covered with leaves and debris, and it was apparent that he took significant steps to try to conceal his body from being located," a statement from Athens police said.
Law enforcement officials determined that Zinkhan, 57, committed suicide after killing his wife, Marie Bruce, 47, Thomas Tanner, 40, and Ben Teague, 63, outside a theater in Athens on April 25.
Another University of Georgia professor, Barbara Carroll, believes that she was also targeted by Zinkhan but escaped because she was at a movie theater the day of the slayings.
In an e-mail obtained by CNN, Carroll had warned her colleagues at the university's Terry College of Business that Zinkhan, a marketing professor, was "dangerous." The e-mail was sent after the shootings but before Zinkhan's body was found.
Carroll could not be reached Tuesday, but in her e-mail she said that law enforcement officials surrounded her house early on the morning of May 1 after authorities found MapQuest directions to her house, printed on April 24, in Zinkhan's Jeep. She said she was advised to go into hiding.
Don't Miss
"I do not believe Zinkhan had a map to my house for any reason other than he planned to kill me as well on April 25," Carroll wrote. "This also suggests premeditation for the three murders he did commit. By the grace of God, I was at the movies all Saturday afternoon after being at school in my office (like a sitting duck) all that morning."
All three of Zinkhan's victims were associated with the Town and Gown Players theater group, which was holding a reunion picnic at the time of the shootings.
Police did not give any motive for the slayings but said in a statement that Zinkhan and his wife were having marital problems. Zinkhan targeted Tanner and shot him first, the statement added.
Authorities said Zinkhan arrived while the Town and Gown event was under way and got into a disagreement with Bruce. Police believe that he left, went to his car -- where the couple's children apparently were waiting -- and returned with two handguns.
In addition to the three deaths, two people were wounded, police said.
After the shootings, Zinkhan, a marketing professor at the Terry College of Business, drove to his hometown of Bogart, Georgia, and left his children -- ages 8 and 10 -- with a neighbor.
Authorities put out bulletins across the nation for Zinkhan after the shootings and revealed that he had purchased an airline ticket in March for a May 2 flight to the Netherlands, where he owned a house. But Zinkhan never showed up at the airport.
E-mail to a friend

All About University of Georgia • Athens (Georgia) • Shootings