From Dave Alsup
CNN





PADUCAH, Kentucky (CNN) -- Surviving members of an Iraqi family said they are haunted by a murder rampage committed by a gang of U.S. soldiers.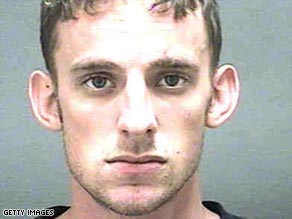 Former U.S. soldier Steven Green has been convicted of raping and killing a 14-year-old Iraqi girl.
They testified Monday in the sentencing phase of a trial, in which one of the soldiers has been convicted and might face the death penalty.
Testimony is to continue Tuesday.
On Monday, family members said their lives have been ruined and it would be better if the soldiers had also killed them.
Defendant Steven Green did not make eye contact as the family members testified.
Green has been identified as the ringleader in the murder rampage. He was convicted last week in U.S. District Court in Kentucky of murder, rape, conspiracy and obstruction of justice.
He and other soldiers barged into the home of an Iraqi family in 2006, raped a 14-year-old girl, killed her and her family, and set the home afire, authorities said.
Ameena Al-Janabi testified through a translator Monday that her two grandsons were the first to arrive on the fiery scene and see that their family members had been killed.
Don't Miss
The two boys used to be great students, but have since refused to attend school, the woman said.
They "are lost, as if they are not living in this life," Janabi said.
Abid Abu Farras, a cousin, also spoke about the effect of the murders on the surviving brothers.
Their "futures are destroyed," Farras said. "If they had died with their family, they would have been better off."
The prosecution rested after four witnesses.
The defense called other soldiers to the stand to illustrate the chaos that Green's platoon faced while deployed in the Mahmoudiya area of Iraq, south of Baghdad.
Four other former soldiers are in prison for their roles in the crimes and the cover-up that followed.
Private First Class James Barker, Sgt. Paul Cortez, Private First Class Jesse Spielman and Private First Class Bryan Howard received sentences ranging from 27 months to 110 years -- with the possibility of parole in 10 years in the most severe cases.
They were convicted and sentenced in a military court.
Green might become the first former U.S. soldier to face the death penalty for war crimes before a civilian court.
The reason for the distinction: Green was discharged from the military before his crimes came to light.
When the killings became public in 2006, the Iraqi public was enraged and some Iraqi officials demanded that American soldiers accused of crimes against civilians face prosecution in Iraqi courts.
U.S. military and civilian officials condemned the attack and vowed to bring those responsible to justice.
E-mail to a friend

All About Steven Green • Iraq