(CNN) -- Dr. George Tiller, whose Kansas women's clinic frequently took center stage in the U.S. debate over abortion, was shot and killed while serving as an usher at his Wichita church Sunday morning, police said.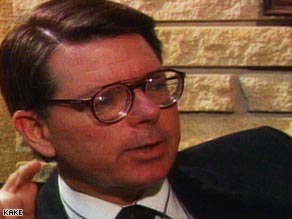 Dr. George Tiller was one of the few U.S. physicians that performed late-term abortions.
Wichita police said a 51-year-old man from the Kansas City, Kansas, area was in custody in connection with the slaying of Tiller, who was one of the few U.S. physicians who still performed late-term abortions.
The killing, which came about 16 years after Tiller survived a shooting outside his Wichita clinic, took place shortly after 10 a.m. Sunday at Reformation Lutheran Church. Officers found the 67-year-old dead in the foyer, police said.
Witnesses provided a description of the car and a license number of the killer's getaway vehicle, Wichita police spokesman Gordon Bassham said. Police stopped a blue Ford Taurus matching the description about three hours later in Gardner, about 30 miles southwest of Kansas City, and took the driver into custody.
No charges had been filed Sunday evening and no motive for the killing was immediately known, but Wichita police Detective Tom Stoltz told reporters: "We think we have the right person arrested."
"We will investigate this suspect to the Nth degree -- his history, his family, his associates -- and we are just in the beginning stages of that," Stoltz said.

See what people are saying about Dr. Tiller's murder »
Tiller's slaying drew condemnation from supporters, from some of those who tried to shut down his practice and from President Obama, who just two weeks ago urged Americans to seek "common ground" on the issue of abortion.
"However profound our differences as Americans over difficult issues such as abortion, they cannot be resolved by heinous acts of violence," Obama said in a statement issued by the White House.
The shooting prompted U.S. Attorney General Eric Holder to direct federal marshals to "offer protection to other appropriate people and facilities around the nation," according to a statement from the Department of Justice.
Tiller had been practicing medicine for nearly 40 years, said Peter Brownlie, president of the Kansas City-based regional Planned Parenthood office. His patients were "almost always in circumstances where something had gone horribly wrong with a pregnancy," and where a woman's health would be endangered if the pregnancy continued, Brownlie said.
He and his staff had been picketed for years, with some activists distributing leaflets around his neighborhood, Brownlie said. His clinic suffered serious damage from a bomb in the mid-1990s, and he was shot through both arms in 1993 by an anti-abortion activist who is currently serving time in federal prison.
"He endured that kind of stuff on a very frequent basis," Brownlie said. "As recently as early this month the clinic sustained serious vandalism that put them out of commission for a week or so."

Watch Tiller describe the philosophy of his clinic in 1999 »
Tiller had armed security at his clinic and a "pretty rigorous" security procedure at home, Brownlie said. But he "made an effort to live his life as normally as possible knowing he could be a target at any time," he said.
In a statement issued through Tiller's lawyers, his family -- a wife, four children and 10 grandchildren -- said their loss "is also a loss for the City of Wichita and women across America."
"George dedicated his life to providing women with high-quality health care despite frequent threats and violence," his family said in a written statement. "We ask that he be remembered as a good husband, father and grandfather and a dedicated servant on behalf of the rights of women everywhere."
In March, Tiller was acquitted of 19 counts of performing procedures unlawfully at his clinic. In 2008, a probe initiated by abortion opponents who petitioned state authorities to convene a grand jury ended without charges.
Leading anti-abortion groups condemned Sunday's shooting, emphasizing they wanted to shut down Tiller's practice by legal means.
Operation Rescue, which has led numerous demonstrations at Tiller's clinic, called the shooting as a "cowardly act." And the National Right to Life Committee, the largest U.S. anti-abortion group, said it "unequivocally condemns any such acts of violence regardless of motivation."
"The pro-life movement works to protect the right to life and increase respect for human life," it said. "The unlawful use of violence is directly contrary to that goal."
But Operation Rescue founder Randall Terry, who is no longer affiliated with the group, called Tiller "a mass murderer."
"We grieve for him that he did not have time to properly prepare his soul to face God," Terry said in a written statement. "I am more concerned that the Obama administration will use Tiller's killing to intimidate pro-lifers into surrendering our most effective rhetoric and actions. Abortion is still murder, and we still must call abortion by its proper name."
The National Organization for Women, which supports abortion rights, called Tiller's killing an act of "domestic terrorism." And NARAL Pro-Choice America said Tiller had worked for years under "intense harassment tinged with persistent threats of violence."
If Tiller was killed because of his work, he would be the fourth U.S. physician killed over abortion since 1993. See all abortion-related attacks since 1993 »
In 1998, a sniper killed Dr. Barnett Slepian in his Amherst, New York, home. Anti-abortion activist James Kopp was later arrested in France and is serving life in prison.
In 1994, Dr. John Bayard Britton and one of his volunteer escorts were shot and killed outside an abortion clinic in Pensacola, Florida. Paul Hill, a former minister, was convicted of the killings and executed in 2003.
And in 1993, another doctor, David Gunn, was shot to death outside another Pensacola clinic. His killer, Michael Griffin, is serving a life sentence.

In addition, a nurse at a Birmingham, Alabama, clinic was maimed and an off-duty police officer was killed in a 1998 bombing by Eric Rudolph, who included abortion among his list of anti-government grievances.
Rudolph admitted to that attack and three other bombings -- including the 1996 attack on the Olympic games in Atlanta, Georgia -- and is currently serving life in prison.
E-mail to a friend

CNN's Matt Smith contributed to this report.