WICHITA, Kansas (CNN) -- The day before a Kansas abortion provider was gunned down at his church, the suspect in his slaying was chased off from another clinic he tried to vandalize, a worker there said Monday.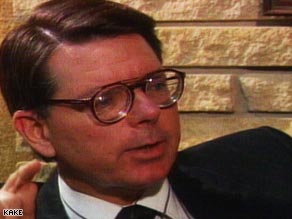 Dr. George Tiller was one of the few U.S. physicians who performed late-term abortions.
Scott Roeder faces a scheduled court hearing Tuesday in the weekend slaying of Dr. George Tiller, one of the few U.S. doctors who still performed late-term abortions. Associates described Roeder as a regular participant in anti-abortion demonstrations in Kansas City and Wichita, where Tiller's practice was located, but most abortion opponents disavowed him Monday.
Roeder was "a regular" in demonstrations outside Central Family Medicine in Kansas City, Kansas, a clinic worker told CNN. The worker, who spoke to CNN on condition of anonymity out of fears for his safety, said Roeder's height -- over 6 feet -- made him "hard to miss."
Early Saturday morning, a worker at the clinic "actually chased after him" after spotting him trying to pour epoxy into the facility's locks two weekends in a row. Video surveillance cameras at the clinic captured Roeder on May 23, but not well enough "for any kind of conviction of any sort," the worker said.
"He hit us in 2000, the same thing -- two weekends in a row," the worker said. But Saturday, "He only got one lock glued before we nailed him."
Another clinic worker "managed to catch his license plate number," the worker said. "I reported this to federal authorities on Saturday." He said FBI agents told him nothing could be done with the information until a federal grand jury convened.
The man said he memorized the license number -- and after learning of Tiller's killing on Sunday, he found out "that the license plate number of the getaway was the same as the license plate that we had here."
Roeder, 51, was arrested about 30 miles southwest of Kansas City on Sunday, about three hours after Tiller's death. He faces possible first-degree murder charges in the killing and was being held without bond in the Sedgwick County jail, according to the sheriff's department.

Watch panel discuss ramifications of slaying »
Abortion is one of the most contentious issues in U.S. politics, and opposition to the practice has periodically spilled over into bloodshed. Tiller and his Wichita clinic were the target of frequent protests and legal challenges, and he had survived a 1993 shooting before being gunned down while serving as an usher Sunday.
Don't Miss
Roeder had a history of protesting at clinics where abortion is performed, one fellow protester who knew him told CNN, and he appears to have posted a message on the anti-abortion group Operation Rescue's Web site in 2007, calling for prayers to shut down Tiller's "death camp."
"Sometime soon, would it be feasible to organize as many people as possible to attend Tillers church (inside, not just outside) to have much more of a presence and possibly ask questions of the Pastor, Deacons, Elders and members while there? Doesn't seem like it would hurt anything but bring more attention to Tiller," the message reads.
Roeder also had been affiliated with the Freeman movement, an anti-government movement in the 1990s. In 1996, he was arrested in Kansas with explosives in his car; in court, a Shawnee County prosecutor called Roeder a "substantial threat to public safety" and said he refused to acknowledge the authority of the courts.
Roeder served 16 months in prison and eight on probation before his conviction was overturned on appeal.
Eugene Frye, who says he has known Roeder for years as an anti-tax campaigner, said just Roeder showed up at a recent abortion protest talking about this year's trial of Tiller, whom Frye called the "killer." Tiller was acquitted in March of 19 misdemeanor counts of performing unlawful procedures at his clinic, and Frye said Roeder had attended the trial.

See what people are saying about Tiller's slaying »
"He just said he'd been down there, and that the trial was a sham," Frye said. But he said he was surprised that Roeder was a suspect in Tiller's death, saying he never spoke of any kind of violence.

Tiller describes the philosophy of his clinic in 1999 »
But Regina Dinwiddie, a 54-year-old grandmother, said Roeder once confronted a doctor at a Planned Parenthood center, telling the physician, "Now I know what you look like."
"Scott came out and told us that he had done that, and we all said, 'Scott, you better leave or they are gonna get after you,'" Dinwiddie said. "Next thing, all these people come rushing out of the place, all worried. Scott was standing up for what he believed in."
Dinwiddie said Tiller's slaying was "absolutely" justified.
"He forfeited his life by taking the lives of innocent children," she said.
And in Iowa, Dan Holman, of the anti-abortion group Missionaries to the Preborn, told CNN that Tiller's death was something to "cheer."
"I was cheered by it, because I knew he wouldn't be killing any more babies," Holman said.
Holman protested a May 17 speech by President Obama in which the president urged Americans to find common ground on abortion. He told CNN that "all abortionists are deserving of death, and they are not the only ones. There are politicians and judges, and others who support this murder are also deserving of death."
Asked to name names, he said, "George Bush, Barack Obama -- any politician that gives our tax money to Planned Parenthood and organizations that kill babies or participate in the killing of children deserve the same penalty."
But the killing drew condemnation from national anti-abortion organizations. The Rev. Gary Cass, director of the Christian Anti-Defamation Commission, said, "This guy is not one of us, and if he thinks he is, then he is deluded."
"I and so many others have been fighting in the movement within the parameters of the law, and all this does is paint us in a broad, awful stroke," Cass said.
Operation Rescue founder Randall Terry told reporters in Washington that Tiller's killing was "wrong, period," and that anti-abortion leaders "are not responsible for George Tiller's death." But he added, "George Tiller was a mass murderer and horrifically, he reaped what he sowed."
"We in the pro-life movement must not shrink from our duty to continue to use words that are highly charged, to do protests, to expose these abortionists, and to work for the complete eradication of child killing," he said.
Clarence Roeder, the suspect's uncle, told CNN affiliate KMBC that Tiller's death was "a tragedy for the Tiller family." And Scott Roeder's ex-wife, Lindsey, told CNN that the killing was "a selfish thing to do."
If he was behind the killing, she said, Roeder "didn't think of his son. He didn't think of the consequences this would have for anybody, his family or anyone in that church or in Dr. Tiller's family."
During the 1990s, three doctors who performed abortions were slain in high-profile cases.

See all abortion-related attacks since 1993 »
In 1998, a sniper killed Dr. Barnett Slepian in his Amherst, New York, home. Anti-abortion activist James Kopp was later arrested in France and is serving life in prison.
In 1994, Dr. John Bayard Britton and a volunteer escort were shot and killed outside an abortion clinic in Pensacola, Florida. Paul Hill, a former minister, was convicted in the killings and executed in 2003.
In 1993, another doctor, David Gunn, was shot and killed outside another Pensacola clinic. His killer, Michael Griffin, is serving a life sentence.

In addition, a nurse at a Birmingham, Alabama, clinic was maimed and an off-duty police officer was killed in a 1998 bombing by Eric Rudolph, who included abortion among his list of anti-government grievances.
Rudolph admitted to that attack and three other bombings -- including the 1996 attack on the Olympic Games in Atlanta, Georgia -- and is serving life in prison.

E-mail to a friend

CNN's Drew Griffin, Randi Kaye, Kathleen Johnston, Paul Vercammen, Ashley Fantz and Matt Smith contributed to this report.