WASHINGTON (CNN) -- All 19-year-old Maria Hernandez wanted to do was escort her grandparents, visiting from Puerto Rico, through a museum whose displays had so impressed her during her previous visit.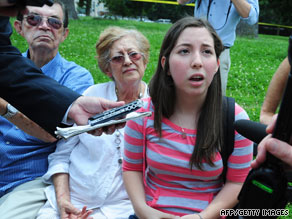 Maria Hernandez, with grandparents Freddy and Lucia Hernandez, describes Wednesday's terror.
But their tour of the U.S. Holocaust Memorial Museum ended abruptly just before 1 p.m. Tuesday, as they were on the second floor.
"We were in the 'Remember the Children' exhibit. We were just exiting, and we heard shooting," Hernandez said. "I ran towards the glass doors to see what was going on. I thought it was a joke or something."
But it was no joke. She heard security guards yell to someone she could not see: "They were, 'Get on the floor. Drop the weapon! Drop the weapon!' Once he didn't respond, they started shooting."
Hernandez saw another security guard lying flat on his belly. "There was blood everywhere. So I didn't actually see him getting shot, but I saw that he was badly hurt."

See photos from the scene of the shooting »
As some patrons raced to the apparent safety provided by the exhibit that Hernandez and her grandparents were in, others stopped in their tracks and hit the floor, she said.
"No one was standing up; no one dared move; we were all very scared," she said. "Finally, I ran back towards where my grandparents were to see if they were OK, and there we stayed until further instructions about how to exit the building safely."
When the time came to deliver those instructions, the guards wasted few words: "They were like 'Run! Run!' "
Don't Miss
By then, Hernandez and her grandparents had separated, and she tried to go back for them but was stopped by the guards. "They were just like, 'Go! We'll take care of it. Just go. Get outta here.' "
She complied. "I just ran from the building as fast as I could. I didn't want to stay to look. I really didn't."
Soon after, she reunited with her grandparents. "They are well, thank God. I was just trying to see where they were and make sure they were OK."
The irony that a museum intended to honor the memories of victims of senseless violence could itself be the site of senseless violence was not lost on Bonnie Gudis, the daughter of a Holocaust survivor whose husband's parents were also Holocaust survivors.
"It was a very emotional day for us," she said. "And for this to happen on top of it was unbelievable."

Watch witnesses describe the chaos »
She said her father had always told her never to forget the Holocaust. "It can happen any time, any place. No matter what the future brings, there's always going to be some crazies who have hatred in their hearts."
Former Defense Secretary William Cohen was at the museum awaiting his wife, whose play about hatred was to have debuted there Wednesday night, when he saw a red car that appeared to have been left double parked in front and an older man entering the building.
Neither image registered as a major concern: "I didn't pay much attention to him. I was on the phone," he said. But Cohen began paying attention seconds later, when he heard gunshots 30 to 40 feet away.
"There was no mistaking on my part," he said. "About four in a row after the first one. It was 'Bam! Bam! Bam! Bam!' and it was clear what was going on."
He ducked out of the line of fire and raced up the museum stairs.
He praised the security guards for what they did next. "They were on that man right away. The security team went into action, and they made sure that all of the people in the museum were safe."
Mark Lippert and his fiancée, Lori Delagarza, had just finished a museum tour and were about to enter the "Remember the Children" exhibit when they heard what he thought were four loud pops.
Delagarza said they sounded like gunshots, Lippert said, but he wasn't convinced. "I said, 'No, it doesn't make sense that it would be.' "
Any doubt ended when he saw three children rushing toward them. "They just had this look on their face; it told me that something was very, very wrong," said the sales manager for a radio station in Oglesby, Illinois. "One of the kids basically did say, 'There's someone with a gun.'

Watch Lippert describe the incident »
"And it happened so quickly, you're standing there going, 'Really? Is it? You don't know?' And then my mind starts racing, thinking, 'OK, we're in this area, which is small. What if somebody does have a gun and they're coming up to that area? Where are we going to go?' "
Where they went was away from the shooting and farther into the exhibit in search of an emergency exit, which they soon found. "So I pushed the door, and it didn't open, and my first thought was, 'This is really not good.'
"I pushed the door again, and it didn't open, and then I look up, and the sign says you have to hold the bar for 15 seconds for the electronic door to open and let you out.
"And so I'm holding that bar the whole time, and that was like the longest 15 seconds of my life."
Finally, the door opened onto the 15th Street side of the museum to reveal the Washington Monument and police who were waving everyone out of the building, he said.
As museum visitors -- many of them children -- streamed out the doors, some wept, he said.

Lippert said he had chosen the museum as the couple's first place to visit during their trip to Washington.
"I knew it would be very interesting and not just your normal tourist place," he said. "I like history, and I thought it would be very interesting. And it was."
E-mail to a friend

All About United States Holocaust Memorial Museum