From Mythili Rao
CNN





NEW YORK (CNN) -- A New York school district superintendent wrestled to the ground a gun-wielding parent apparently irate over the school's latest swine flu memo, officials said.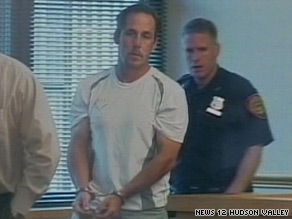 Peter Cocker was arraigned on charges of burglary, kidnapping, coercion and criminal use of a weapon.
Police and school officials identified the suspect as Peter Cocker, 37, parent of a recently ill student at South Orangetown Middle School in Rockland County.
The man barged into the office of South Orangetown School District Superintendent Ken Mitchell brandishing a gun, said B.J. Greco, public information officer for the district.
The man locked the office door and confronted Mitchell about his latest H1N1 memo, released a day earlier, Greco said.

Watch more on the suspect »
That advisory noted that one case of H1N1 had been confirmed at the middle school, recommended hand-washing and advised ill students to stay home.
Both school officials and police said Wednesday that they had been unable to determine what about the memo might have provoked the incident.
"The superintendent and intruder wound up in a scuffle," Greco said.
By the time Orangetown police officers arrived on scene, the superintendent had wrestled the angry man to the ground, she said.
Officers were unable to force the locked door open with a crowbar, the police department said. Growing concerned about the sounds of an escalating struggle inside, they fired a shotgun at the doorknob to gain entry.
For the next several hours, Orangetown police -- with the assistance of neighboring departments and other regional agencies -- combed the building to ensure that no other intruders were inside.
About 2:15 p.m., two hours and 45 minutes after the call about the incident came in to police, the school's 800 sixth-, seventh- and eighth-graders were dismissed on schedule.
"It was a spectacular end to a difficult situation," Greco said.
"This is highly unusual for the South Orangetown District," police Lt. James Brown said. "It's a very safe town."

Cocker is a former member of the New York City Police Department who has no criminal record in Rockland County, Brown said.
He was arraigned Tuesday night on charges of burglary, kidnapping, coercion, and criminal use and possession of a weapon and is being held at Rockland County jail without bail.
E-mail to a friend

All About Swine Flu