By Tom Watkins
CNN





ATLANTA, Georgia (CNN) -- A former housemate of the man accused of killing a black security guard Wednesday in the U.S. Holocaust Memorial Museum in Washington described the suspect as an avowed racist who had threatened to "go out with a bang," but someone he had not considered capable of carrying out such an attack.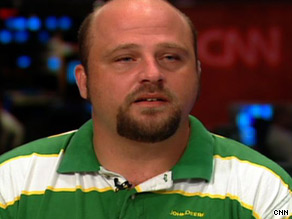 Scott Aulbach says accused killer James von Brunn "spoke a lot about Jews and blacks."
"He spoke a lot about Jews and blacks; he would say the other word, you know, of course," Scott Aulbach, 36, said of James von Brunn, the 88-year-old man charged Thursday with a federal count of murder and killing while in possession of a firearm in a federal facility.
It wasn't just ethnic groups that von Brunn apparently did not like. "He said the government was not for us, they were against us, and that a man trying to make a living and trying to get ahead in life is never going to get ahead in life because of the government," Aulbach said.
He met von Brunn in the summer of 2004, Aulbach said, when the octogenarian showed up with his ailing sister in an old Ford Escort at the house Aulbach was sharing in Orlando, Florida, with von Brunn's son Eric.
"I think it was financial reasons" that led the father and his sister Alice, who was being treated for cancer, to move from their home in Maryland into a 1,800-square-foot, three-bedroom house shared by the two managers of a store renting furniture, appliances and computers, Aulbach said. With Social Security payments his sole income, von Brunn "couldn't support himself," Aulbach added.
Aulbach said he and the younger von Brunn agreed to share the master bedroom so his roommate's father and aunt could have separate bedrooms, but he still paid half the $1,500 monthly rent.
Perhaps that was why the father took a liking to Aulbach, or perhaps it was because of his Germanic last name, which Aulbach said von Brunn told him he liked.
Don't Miss
But warm feelings were rare in the household. "I didn't sense a whole lot of love" between the elderly siblings, Aulbach said. "He used to complain a lot about having to take care of Alice, going getting medicine. He'd have to get up and down, go and check on her when she hollered, stuff like that."
Over the next eight months, Aulbach said, he got to know the elder von Brunn and didn't like much of what he learned.
"I never met a prejudiced person like him before in my life," he said. "He could just go on and on and on. It got to the point, when I came home, I'd go straight to my room and that was it. Maybe if he said 'Hi,' that was it. I didn't want to get in no conversations with him. I'm not a prejudiced person. I'm not a negative person either. I don't like hearing negative stuff."
Aulbach said the elder von Brunn told him he had been passed over for promotions while working as a young man in a sales position in New York and he blamed Jews for his failure to advance. "The Jews screwed him out of his promotions," Aulbach said he was told.
His new housemate also soon showed that "he was big into the Hitler thing," Aulbach said.
At times, they would be watching television together, "and you'd just hear '88.' And I didn't know if the guy maybe had Alzheimer's or something, maybe he was losing his mind a little bit. I kept asking Eric, 'Eric, what is he saying?' Finally, he said, 'H is the eighth letter of the alphabet and 88 is HH. Heil Hitler.' And that's what he told me."
Even basketball games provided fodder for the elder von Brunn to vent at black players. "He'd say, 'They ruined the sport. I can't stand them,' " Aulbach said.
But the elder von Brunn also had an artistic side: During the eight months they lived together, he painted oils, primarily landscapes and ocean scenes, though he had little success selling them to area art dealers, Aulbach said.
Von Brunn also apparently had literary aspirations. He told Aulbach he was writing a book, "but I never knew what it was about."
On the few occasions that von Brunn did leave the house, it was to pick up medication for his sister or to go shopping. But he preferred to stay home.
"He made the statement a couple of times after I'd come home from work, 'I had to run to Target or something,' " Aulbach recalled. He quoted von Brunn as declaring, " 'I don't know how you all live here. I don't like it here. There's too many black people. I don't know how you put up with it.' "
Nor did von Brunn attend church. "He didn't believe in God," Aulbach said. "I think he made a statement one time -- 'You're the only person you can count on -- you and your family. You can't count on the government, you can't count on God.' "
Von Brunn would fill most of his days hunched over an 8- to 10-year-old Packard Bell computer, Aulbach said.
His food interests were simple: lots of peanut butter and jelly sandwiches and StarKist tuna-in-water, which he ate directly from the can, Aulbach said.
Von Brunn's relationship with his son was rocky and unpredictable, perhaps because both men drank heavily, with the older man partial to Evan Williams Kentucky Bourbon in fifth bottles, Aulbach said. "Some of the things that him and Eric would fight about, they would just come from left field, just out of the blue," he said.
"One time, they got into a fight and Eric actually punched him. His son punched him. He had a black eye. I don't know what the fight was about, but he actually blacked his dad's eye, busted his nose."
There were some ominous comments that Aulbach never was able to decipher. "He would say remarks like, 'I'm going to go out with a bang when I die,' and his son said it, and I never got a clear answer what that meant," Aulbach said. "I never got a clear answer on why would you want to go out with a bang? What are you planning on doing?"
Though he never had a visitor, von Brunn told his housemates he had been a ladies' man in his younger years, Aulbach said.
That fall, Eric's mother -- who had divorced von Brunn years before -- invited her son and his roommate to her house in Homosassa, Florida, for Thanksgiving dinner, Aulbach said. "She was a good person," he said, noting that there appeared to be at least a 20-year age disparity between the two.
After Aulbach learned about von Brunn's conviction for having taken a rifle into a Federal Reserve Building, he decided in spring 2005 that it was time to move out. "I wasn't real comfortable living there," he said.
Soon after, Eric lost his job and the von Brunns returned to Maryland, where Alice died of cancer. Eric moved in with his father in Easton, returning to Florida once in 2006 for a vacation, Aulbach said. The former roommates talked "maybe once or twice after that," but the conversations ended when Aulbach lost Eric's telephone number.
Aulbach didn't hear again about either man until Wednesday night in Atlanta, Georgia, where Aulbach -- who lives in Parrottsville, Tennessee -- was in a hotel room after spending the day attending a training session for his new company.
"I turned the TV on; I heard something about a shooting at the Holocaust [museum] and the next thing I seen is his picture. I knew it was him.
"It just floored me. I couldn't believe it. I knew the guy and I'd hear some of the things he had said and some of the things he did in the past, and I never would have expected this to happen. It's a tragedy."
E-mail to a friend

All About United States Holocaust Memorial Museum • Murder and Homicide