WASHINGTON (CNN) -- The fatal shooting of a security guard at the U.S. Holocaust Memorial Museum sent shock waves throughout the nation's capital and across the country and the world.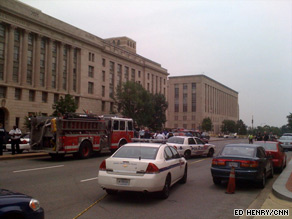 Wednesday's shooting turns the U.S. Holocaust Memorial Museum into a scene of violence and chaos.
"I am shocked and saddened by today's shooting at the U.S. Holocaust Memorial Museum," President Obama said Wednesday, just days after speaking emotionally about the Holocaust during a visit to Buchenwald, a former Nazi concentration camp, with Holocaust survivor and Nobel Peace Prize laureate Elie Wiesel.
Authorities said a rifle-wielding man identified as James von Brunn gunned down security guard Stephen Tyrone Johns, 39. Von Brunn remained hospitalized in critical condition Thursday from shots fired by other security guards, authorities said.
Authorities said Thursday that von Brunn, 88, a white supremacist known for racist and anti-Semitic writings, will be charged with murder in the fatal shooting and also will face charges of possession of a firearm at a federal facility.

Watch neighbors describe alleged gunman »
"This outrageous act reminds us that we must remain vigilant against anti-Semitism and prejudice in all its forms," Obama said Wednesday.
"No American institution is more important to this effort than the Holocaust museum, and no act of violence will diminish our determination to honor those who were lost by building a more peaceful and tolerant world."
Israel issued a statement through its Embassy, expressing sadness and condemning the attack.
Don't Miss
The Anti-Defamation League said the shooting "reminds us in the starkest way where the spread of hatred can lead."
Occurring "at the very place that was created to remember and teach about evil in the world," the attack "is an immediate reminder that words of hate matter, that we can never afford to ignore hate because words of hate can easily become acts of hate, no matter the place, no matter the age of the hatemonger."
The Council on American-Islamic Relations condemned "this apparent bias-motivated attack" and said it stands "with the Jewish community and with Americans of all faiths in repudiating the kind of hatred and intolerance that can lead to such disturbing incidents."
An ex-wife of the alleged shooter, who asked not to be identified, said she's in a "state of shock" over what happened and is "very sorry for the young man who died."
She said she and von Brunn had been divorced for more than 30 years.
She said she was aware of her ex-husband's anti-Semitic views, admitting it was the reason for their breakup.
"I was in total disagreement with his views," she said.
As a place designed to stimulate visitors to confront hatred and to promote peace and human dignity, the Holocaust museum became the scene of everything that was opposite on Wednesday.
Witnesses described blood on the floor and chaos within the museum's halls.

Watch tourists talk about the panic inside the museum »
Visitor Maria Hernandez said she heard five shots and saw the wounded security guard.
"It was definitely a security guard; he was down bleeding on the floor," said Hernandez, 19. "He was face down. His back ... blood was coming out."

Dave Pearson, a sixth-grade teacher in the Washington area, said he was on the museum's fourth floor when he heard a loud noise.
"At the time, we're visiting and all of a sudden there's like a boom, and all of a sudden they told us to stop where we're at," he said. "Only thing we heard was a boom, and that was it."
E-mail to a friend

All About United States Holocaust Memorial Museum