WASHINGTON (CNN) -- The 88-year-old white supremacist charged with killing a guard at the Holocaust Memorial Museum left a note proclaiming President Obama a tool of "Jew owners," according to court records released Thursday.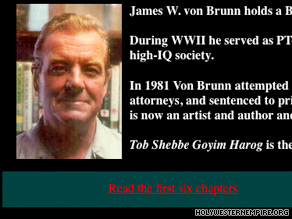 Writings attributed to James von Brunn and a biography appear on the Web site Holy Western Empire.
James von Brunn remained in critical condition in a Washington hospital after being shot by other security guards at the museum Wednesday.
A notebook found in his car after the shooting declared, "You want my weapons -- this is how you'll get them," according to investigators.
"The Holocaust is a lie. Obama was created by Jews. Obama does what Jew owners tell him to do. Jews captured America's money. Jews control the mass media. The 1st Amendment is abrogated --henceforth," von Brunn wrote, according to an FBI agent's affidavit.
Previous online postings attributed to James von Brunn promoted the claim that Obama has no valid U.S. birth certificate, a debunked theory rejected by U.S. courts and refuted by a certified copy of his birth certificate from the Hawaii Department of Health.
A November 2008 post that appeared under von Brunn's name declared, "There is no Obama documentation -- no records -- no paper trail -- none -- this is no accident. It is being done on purpose with Media help -- but to serve whom & why???"
Von Brunn has been charged with murder in the shooting death of museum guard Stephen Tyrone Johns, 39, and could face the death penalty.
Von Brunn has been living with his son and his son's girlfriend in an apartment in Annapolis, Maryland. The FBI affidavit states he moved in about two years ago, bringing with him two rifles -- one a .22-caliber, the type used in Wednesday's shooting, and a .30-caliber.

Watch more about who is James von Brunn »
Scott Aulbach, the son's former roommate, said von Brunn "didn't like anything about the government" and "was really prejudiced against blacks and Jews." But Aulbach said he was "floored" when he heard the elderly white supremacist was the suspect in the museum attack.
"I knew the guy, and I heard some of the things he had said and some of the things he did in his past, but I never would have expected this to happen," he said. "I mean, it's a tragedy."
But Jesse Demolli, who once exhibited some of von Brunn's paintings in his Maryland art gallery, said he was not surprised by the news.
"He was crazy. He was a lunatic. He was scary as hell," Demolli told CNN affiliate Bay News 9 in Tampa, Florida.
He said about eight years ago, another gallery referred von Brunn to him. Demolli said von Brunn's paintings consisted largely of portraits of Native Americans. He hung about a dozen of the works for about three days, and said von Brunn called every day to find out whether anything had sold.
After three days, he said, von Brunn accused him of not doing enough to sell the paintings, telling him he "really needed money." Demolli said he gave the man $20, which he immediately used to buy beer and cigarettes and returned to the gallery, where he quickly began to disparage residents of the surrounding neighborhood, which was largely African-American.
"Then he started talking about the gas chambers, and I said, 'Jim, that's it. That's it. Time out.' I told him to get out of my gallery, and I started taking his paintings down," Demolli said. As he removed the last painting, he said, von Brunn opened his jacket to show him a pistol.
"He said he really liked me and today is my lucky day, and he left," Demolli said. "He was a crazy, racist man."
Von Brunn's ex-wife said she was in a "state of shock" over the shootings. The woman, who asked not to be identified, said she did not know about her husband's anti-Semitic views until "a few years" into their marriage, and said she "was in total disagreement with his views."
She told Bay News 9 that his views were part of the reason their marriage broke up, which she said happened "over 30 years ago."
"I can't tell you what was in his mind. I have no idea," she said.
Von Brunn grew up in St. Louis, Missouri, attended Washington University there and graduated in 1943 with a degree in journalism. He joined the Navy the same year, became an officer and served in torpedo boats in both Europe and the Pacific, according to Navy records.
In July 1945, just before Japan's surrender, he became skipper of a PT boat. He worked in advertising after the war, and described himself as an artist before his arrest Wednesday.
But by the 1970s, he had become a "hardcore neo-Nazi," according to Heidi Beirich, a researcher for the Alabama-based Southern Poverty Law Center.

Watch more about the debate over free speech and hate crimes »
Von Brunn served a federal prison term for a 1981 attempt to kidnap members of the Federal Reserve's board of governors, triggered by anger at what he called the "treacherous and unconstitutional" acts of an institution he called Jewish-controlled.
David Gletty, who infiltrated white supremacist groups for the FBI, said younger members of the movement considered von Brunn "a POW" for his prison time.
"That's a badge of honor to these people," Gletty said. "They look up to that as if, you know, if you're military, you get the badges of honor, like the Medal of Honor and so on."
Von Brunn's Web site promoted his book, "Kill the Best Gentiles," in which he claimed the Jewish-led "Illuminati" and Jewish figures such as Sigmund Freud and Karl Marx worked "to destroy Western civilization and the Aryan nation that created it."
Postings attributed to him on other Web sites declared both Christianity and the Holocaust "hoaxes," and announced that "Hitler's worst mistake" was "he didn't gas the Jews."
E-mail to a friend

All About United States Holocaust Memorial Museum • Barack Obama