By Emanuella Grinberg
CNN





(CNN) -- The parents of a California teen who disappeared on her way to school in February have closed the center that was the staging ground for search efforts, citing a lack of volunteers and a shift in direction.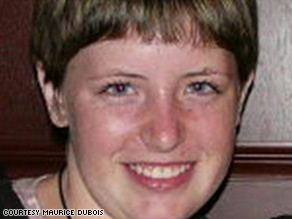 Loved ones say Amber Leeanne DuBois, 14, would never go anywhere without telling her parents or friends.
But the parents of 14-year-old Amber DuBois say the search will continue with a small group of dedicated volunteers.
"We're absolutely going to keep going. Anyone who wants to volunteer can log onto Amber's site (http://www.bringamberhome.com/) and see where we're going to meet," Amber's father, Maurice DuBois, said.
The decision to close the center -- a nondescript, 7,500-square foot building donated by an Escondido businessman -- did not come easily.
"I don't want people to have the impression that we're giving up. I'm scared that the fact we're closing will make people stop volunteering, but we still need them because we won't stop looking until we find her," DuBois said.
Initially, hundreds volunteered to assist in the search for Amber, who was last seen walking to Escondido High School on February 13. Relatives, friends and members of the community have met at the center every weekend since to plan searches and pick up fliers for distribution throughout San Diego County.

Watch more about this mysterious disappearance »
As time passed without progress, the number of volunteers dwindled and leads slowed to a trickle, while bills for liability insurance, telephone service and electricity continued to come in.
Amber's mother said she never liked spending time at the center because it was a constant reminder that her daughter was missing. And while she is saddened by the implications of its closure, she maintains hope that the decision will help advance their efforts.

Hear Amber's parents describe her childhood »
Don't Miss
"It makes me sad because we used to have over 200 volunteers a day and now we have about 10," Carrie McGonigle said. "But people have lives, and even though I just want them to look for Amber, it's a lot of time to ask of someone. This way, we can use her search and rescue fund for getting the word out nationwide."
Multiple state and local agencies, as well as the FBI and the National Center for Missing and Exploited Children, have been involved in the search.
Based on the time and location where Amber was last seen on February 13 by two witnesses who knew her, she should have crossed in front of a school surveillance camera about 100 yards away, Escondido Police Lt. Bob Benton said.
But she never made it, and around the same time, a red truck appeared in surveillance camera footage from a school bus parking lot. The quality of the image prevents identification of the truck, and authorities are still seeking to find out why it was there, Benton said.
Otherwise, investigators have been stymied by a lack of viable leads.
The "good news" is that searchers have covered a large chunk of Escondido without finding a body, which means they can take a new approach, said Mark Klaas, founder and president of KlaasKids Foundation, a child safety advocacy group.
"They've combed the area and found nothing, so it's time for a new direction," said Klaas, who created the foundation in 1994 to give meaning to the kidnapping and murder of his daughter, Polly.
Klaas said he met with the family on the weekend to discuss the possibility that the bookish teen is a victim of a human trafficking ring that sold her into the sex trade.
"There's no doubt that there is a very robust and vigorous human trafficking problem in that part of the country, in and around San Diego, near the border. Unfortunately, you have to consider the scenarios: She's dead, she ran away or she was kidnapped," he said.
"It's about keeping hope alive and giving the family a way to remain proactive in the case," he said. "They have to keep hope alive because as soon as they throw in the towel, it's all over and there's no hope for this kid."
Benton said investigators were considering all potential angles, including the possibility that Amber had been abducted.
Amber's parents agree that it's up to them to keep the case alive, which is why they are expanding search efforts beyond San Diego County.

"At this point we've saturated San Diego County with fliers and publicity, so if she were in San Diego County and someone saw her, we'd know it by now," DuBois said.
"Four months is a long time. I feel she was abducted by a stranger and who knows where she could be at this point. She could be anywhere. It's very difficult to think about, but it's a harsh reality."
E-mail to a friend

All About Missing Persons • Escondido • Human Trafficking