From Kristen Hamill
CNN





NEW YORK (CNN) -- A 49-year-old man impersonated his dead 77-year-old mother in paperwork -- and sometimes in person -- for six years, collecting more than $100,000 in her name, according to the Brooklyn district attorney.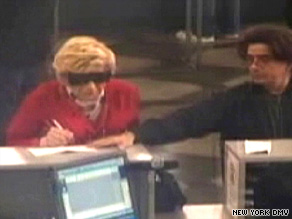 Surveillance video shows Thomas Parkin, left, dressed as his mother at a DMV office on April 29, authorities say.
The man sometimes dressed as his mother and, with an accomplice, collected more than $52,000 in Social Security benefits and another $65,000 in city rent subsidies, prosecutors said.
Thomas Parkin and a man accused of being his accomplice, Mhilton Rimolo, 47, pleaded not guilty Wednesday to a sweeping 47-count grand jury indictment that includes charges of perjury, grand larceny, conspiracy, forgery and criminal impersonation, Brooklyn District Attorney Charles J. Hynes told reporters.
Their bail was set at $1 million each. If convicted, they could each face up to 25 years in prison.
"These defendants ran a multiyear campaign of fraud that was unparalleled in its scope and brazenness," Hynes said.
Authorities allege Parkin impersonated his late mother, Irene Prusik, after her death in September 2003.
On April 29, surveillance video captured Parkin posing as his mother to renew her driver's license at a state Department of Motor Vehicles office in Brooklyn, authorities said. Parkin was wearing a blonde wig, a red sweater, sunglasses and a scarf around the neck, authorities said.
Next to him was Rimolo, who was pretending to be her nephew, authorities said.

Watch report on the case »
"[Parkin] did a pretty good job of covering himself up so that those that didn't know what to look for wouldn't be able to see anything," said Michael Vecchione, chief of the Brooklyn district attorney's rackets division.
According to the indictment against him, the source of the fraud dates as far back as 1996, when Prusik ceded the deed of a building she owned in the Park Slope section of Brooklyn to her son. By 2000, he had gotten into debt after purchasing properties with business partner Rimolo, "presumably for speculation," Hynes said.
Parkin forged his mother's death certificate when she died, writing a false Social Security number and birth date, according to the indictment against him. He began collecting her Social Security and also began filing lawsuits in his mother's name against a man who had bought under foreclosure the building she had owned, the indictment said.
Authorities launched an investigation in 2008 after the man who was the target of the lawsuits involving the disputed building claimed that Prusik and Parkin were filing false affidavits against him.
"Unknown to [the man] -- and in fact, anybody -- Irene Prusik, at the time that these actions were instituted, had died," Hynes said.
Hynes said that initially, investigators could find no evidence of Prusik's death, but a deeper inquiry led them to the forged death certificate.
Throughout the investigation, authorities said they had two taped meetings with Parkin -- one in which he was himself and one, at the disputed building, where he dressed as his mother. Rimolo also was at both meetings, claiming to be Prusik's nephew, authorities said.
Hynes said authorities were surprised when Parkin and Rimolo agreed to have investigators meet Prusik at the disputed building. There, Hynes said, "the case went from strange to truly bizarre."
When investigators arrived for the May 11 meeting, they saw Parkin dressed as his mother, wearing a red sweater, lipstick and an oxygen mask, authorities said. Authorities said Parkin used the oxygen mask to support his earlier claims that his mother was too sick to speak.
Parkin was arrested Tuesday.

"I held my mother when she was dying and breathed in her last breath, so I am my mother," Parkin told authorities during his arrest, according to a law enforcement source close to the investigation.
When asked by CNN's Susan Candiotti if he's seen any case like this before, Hynes said, "Not anything close. For creativity, this comes out number one."

E-mail to a friend

All About Social Security Administration • Crime • Brooklyn