By Rich Phillips
CNN Senior Producer






SARASOTA, Florida (CNN) -- Gary Meringer pulled out of his driveway in his red sedan on a rainy Florida morning. He headed south towards a federal detention center two hours away to visit Youssef Megahed.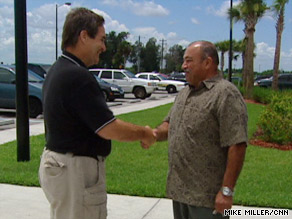 Jury foreman Gary Meringer (left) meets with Youssef Megahed's father, Samir, outside the detentention center.
Meringer was apprehensive, unsure of what he would say to a man with whom he'd spent a month in the same room, but had never met.
Meringer was the foreman on the jury that set Megahed free.
But, three days after Megahed was acquitted of charges of possessing and transporting explosives, he was arrested again. This time, the U.S. government wants him deported, based on evidence authorities say suggests the Egyptian-born Megahed is a terrorist, in violation of his immigration status.
"We never expected anything like this," said Megahed, reached by phone at the detention center in Moore Haven, Florida.
Neither did his jury foreman.
"I saw the story about the re-arrest, and it literally just took the air right out of my chest," Meringer said. "I could not believe what my eyes were seeing."
Before he left home, Meringer sat in his backyard with his 10-year-old daughter, Rachel. They talked about what he should say when he meets Megahed.
Meringer told the child he hoped to deliver this message: "People care about him and are rooting for him and hope things work out for the best," adding, "Other than that, I don't know what I'm going to say to him."
"Just let him know that there are people out in the world who love him and care about him," Rachel said.
The Muslim community, the jurors and the Megahed family say they believe that Youssef Megahed is a victim of profiling. They hope President Obama will intervene. Earlier in June, in his speech to the Muslim world, Obama called for an end to what he called the "cycle of suspicion."
"This is like a great starting point for the Obama administration to translate their speech and their vision, into some reality here in the U.S.," said Yahia Megahed, Youssef's brother.
Megahed came to the United States from Egypt in 1998 as a legal immigrant when he was 12. His problems started two years ago when, as an engineering student at the University of South Florida, he went on a road trip with a new friend, Ahmed Mohamed.
The men were pulled over on a highway, near Charleston, South Carolina, for speeding.
Police say they searched their vehicle and found PVC pipe with potassium nitrate inside, along with detonator cord inside one of Mohamed's bags.
The government said the materials were "low explosives." Mohamed said they were materials for homemade model rockets.
Youssef Megahed claimed he did not know that the materials were in the car.
A search of Mohamed's laptop computer found research concerning rockets and propellants and how to manufacture them, as well as information about Qassam rockets -- crude rockets used by terrorists in the Middle East, according to prosecutors.
Prosecutors also had a video, made and narrated by Mohamed, in which he demonstrates how to outfit a model car with explosives. He posted it on "YouTube."
Mohamed pleaded guilty to providing material support to terrorists and is serving a 15-year prison sentence.
However, Megahed went to trial and was found not guilty on two charges of possession and transportation of explosives. He was later set free.
"I'm very happy with this," he said, smiling to reporters after his acquittal.
Jurors later said they believed that Megahed did not know the "low explosives" were in the car.
Gary Meringer and the other 11 jurors deliberated for over three days in U.S. district court in Tampa before reaching their unanimous verdict.
"We were all waiting for a shoe to drop, for some kind of a case to be made....so, after two weeks, it seemed to me there was no case, and nothing for us to decide," Meringer said.
"This case never should have seen the light of day in a courtroom."
Megahed left the courthouse on Friday, April 3, ready to resume his life and his studies. He and his family spent the weekend at the beach at Fort DeSoto, Florida. Three days later, federal agents surrounded him, and his father, Samir, as they left a Wal-mart store near their home in Tampa and he was arrested again.
"They surround us....I'm in shock. They didn't give us a chance to speak to somebody to know what was going on," said Samir Megahed. "I try to open the telephone, but they didn't allow me," he said.
Megahed is now being detained by U.S. Immigration and Customs Enforcement, or ICE, as someone ICE says is "engaged or likely to become engaged in ... terrorist activity" even though he has never been criminally charged with terrorism.
ICE will present an immigration judge with the very same facts that led to Megahed's acquittal in the criminal case. In immigration court, the burden of proof is significantly less.
The evidence, from a search of the computer at his family's home, includes "numerous videos, documents and an Internet search history that supports Islamic extremism, jihad against the United States...," ICE alleged in court documents.
If found guilty, Megahed will be deported.
CNN requested an on-camera interview with Megahed, but ICE would not allow it.
"Because of the national security implications of this case, ICE cannot allow the use of recording devices during in-person interviews with Mr. Megahed," spokesman Richard Rocha said in an e-mail.
Instead, CNN conducted a phone interview with Megahed from the Glades County Detention Center, near Lake Okeechobee.
"I feel this is double jeopardy because the same allegations here are the same allegations that was there, in the court, in the trial," he said.
Megahed was asked, "Are you a terrorist?"
"I would say this is a false allegation," Megahed responded. "Baseless. And I go to court to fight those allegations again."
ICE spokeswoman Nicole Navas said in response: "He will have the opportunity to present the facts of his case before an immigration judge."
This is not the first time the government has gone to immigration court as a last resort after failing to win a criminal prosecution.
"The government doesn't use this a lot, but I think this is an arrow in the quiver that needs to stay because there are those cases where the government needs to do everything in its power to keep us safe, from some of those same individuals," said former U.S. Attorney Guy Lewis.
"In one context, the real question is, are you going to jail for a long period of time. The other context is, are you going to get to live among us," Lewis said.
But Youssef's father says it's pure discrimination against Muslims.
"They didn't want us to live here. And because he wins the case, they want to destroy him completely," Samir Megahed said.
At the detention center, Gary Meringer pulled his red sedan into the parking lot. He had two hours in the car to figure out what he's going to say to the man he judged in court.
The Megahed family awaits at the prison entrance. They greet Meringer warmly. He shakes hands with Samir Megahed, the father.
"Good to meet you after all this time. God bless," Meringer said.
The juror and the former defendant meet with a plate of glass between them. They talk over a phone hook-up. The conversation is recorded by the prison.
It is over in 15 minutes.
"He did complain about the quality of the food and the laundry," Meringer said, smiling. "I told him... I was out here rooting for him, that he would get justice at the end of the day, and not to lose hope, not to give up, to hang in there."
A spiritual man, Meringer said he was grateful he could find the words to communicate with Megahed. He believes God put him in this position for a reason.
"I had to listen to my heart ... I can't say I don't want to get involved or I may get audited," he said.
"I would have walked down here to talk to him," he said with a smile. "I want this kid to get a fair shake ... It was clear to me that I was talking to a fairly depressed individual, fairly depressed kid."
Meringer says he plans on visiting Megahed again, before his case is heard in August. He hopes his case will also be heard in Washington.
From his prison phone, Megahed said: "If President Obama wants to talk about change, he should look first inside the U.S. before talking about change worldwide."
E-mail to a friend

All About Immigration • Terrorism • U.S. Immigration and Customs Enforcement