GAFFNEY, South Carolina (CNN) -- Investigators believe the serial killer blamed for five deaths in South Carolina died in a shootout with police in neighboring North Carolina on Monday, a South Carolina state police official said.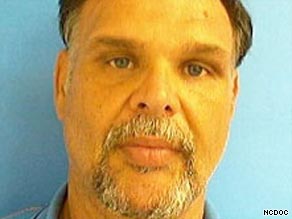 Patrick Tracy Burris, 41, was believed to be the suspect in five slayings in South Carolina, authorities say.
Tests on the gun found on 41-year-old Patrick Tracy Burris match the weapon used in the killings that have haunted Gaffney, South Carolina, since June 27, said Reggie Lloyd, director of South Carolina's State Law Enforcement Division. The dead suspect and his vehicle appear to match descriptions circulated by investigators in Gaffney, he said.
"We believe a killer is off the streets," Lloyd said.
Burris was killed early Monday morning in Dallas, North Carolina, after police received a call about a possible burglary in progress, officers there said. At a news conference Monday evening, investigators described him as a "habitual felon" with a record in several states who was on probation at the time he was killed.
When police arrived at the home, they found inside two people who lived there and a third who was an acquaintance, said Bill Blanton, the sheriff of Cherokee County, South Carolina. Police checked Burris' background and found there was an outstanding warrant on him from a probation violation from Lincoln County, North Carolina.

Watch Lloyd say why police think they've got their man »
When police attempted to serve the warrant, Burris shot at the officers, who returned fire, Blanton said.
One officer was shot in the leg and was treated and released from a hospital, police said.
At a news conference Monday night, Lloyd held up what he said was Burris' 25-page rap sheet, including a lengthy history of armed robberies, forgeries, break-ins and several other charges from several states.
"At some point the criminal justice system is going to have to explain why this individual was out on the streets -- we owe that to the victims," he said.
About 100 investigators from North and South Carolina were working the case, Blanton said. Leaves for all members of the Gaffney Police Department and the Sheriff's Department were canceled, their respective chiefs have said.
The first shooting occurred June 27, when peach farmer Kline W. Cash, 63, was killed. His wife found him dead in their home, the sheriff's office said, and Blanton said the home may have been robbed.
Four days later, the bound and shot bodies of Hazel Linder, 83, and her 50-year-old daughter, Gena Linder Parker, were found in Linder's home, where she lived alone. Blanton said authorities are still trying to determine if anything was taken from that home.
The killer's last victim was 15-year-old Abby Tyler, who was shot last week and died Saturday. Her father Stephen Tyler, 48, had been pronounced dead at the scene of the shooting, in their family-run furniture and appliance store.

See a map of where the bodies were found »
Lloyd said investigators had evidence that put Burris at the scene of the killings, but did not know a motive.
"There's no hard evidence as to what connections he had with this community or why he targeted these victims," Lloyd said.

He added that the investigation is ongoing, and that officials are trying to determine what the suspect was up to between the killings and after the last the shooting.
"We don't believe at this point anyone else was involved in the murders, but anything could turn up," he said.
E-mail to a friend

CNN's David Mattingly, Carolina Sanchez, Richard Lui, Mike Brooks and Stan Moberg contributed to this report.
All About Murder and Homicide • South Carolina