From Eric Marrapodi
CNN





WASHINGTON (CNN) -- More than 35,000 fugitives across the United States were arrested in June as part of an annual sweep that teams the U.S. Marshals Service with local law enforcement in a summer push to clean up the streets, U.S. Marshals said Thursday.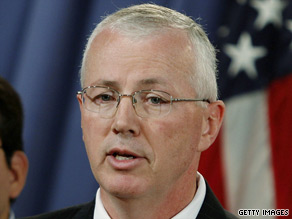 U.S. Marshals director John F. Clark says unregistered sex offenders were a major target.
Among the 35,190 fugitives apprehended during Operation FALCON (Federal and Local Cops Operating Nationally) were 2,356 fugitive sex offenders, the service said.
"This might be considered the cream of the crop for the most violent felons that are out there. For example, we arrested 433 murder suspects," said U.S. Marshals director John F. Clark at a Chicago, Illinois, news conference.
In the course of the operation, the marshals also confiscated 582 firearms and 2,400 kilograms of narcotics. "Often when we find fugitives in hiding, we have other fruits of their crimes: firearms, drugs, some other evidence of some type of criminal activity," Clark said.
Unregistered sex offenders were a major target, Clark said.
"We highlighted one [case] here in the Chicago area. It involved an individual who was alleged to have molested a 9-year-old girl. He had violated his parole, and after an investigation he was located," he said. "There's evidence of further crimes that happened since he didn't register as a sex offender. This is typical of the type of individual who is out there, somewhere on the streets of America, and is often harming children or others."
One operation involved a Cleveland, Ohio, Police SWAT team and the U.S. Marshals, who were following a lead on Jeremiah Jackson, 29, who was wanted for murder, accused of shooting a woman in the back during a robbery.
On June 9, the team surrounded a house where an intelligence surveillance team said Jackson might be. Jackson was reported to be armed and dangerous. But Deputy U.S. Marshal Brian Koerbel said once Jackson saw the team, it had its man.
"When he saw he really had nowhere to go, he gave himself up," said Koerbel. "He made the statement, 'I'm the guy you're looking for and I'll come right down.' "
In Cleveland, Koerbel said, the program was a success.
"We were able to arrest 1,211 people in a 30-day period. Five were for homicides," he said.
Typically, the U.S. Marshals office in Cleveland arrests about 100 fugitives in any given month. "This is just the type of operation that brings us all together and shows we're a force of one and shows the community we're here and this is a safe place to raise a family," Koerbel said.
Jackson was jailed on $10 million bond. He has not entered a plea on the murder charge, but his father, Willie James Jackson, told CNN affiliate WJW the police have the wrong man.
E-mail to a friend

All About U.S. Marshals Service • Murder and Homicide