From Chris Welch
CNN





MINNEAPOLIS, Minnesota (CNN) -- A federal grand jury has indicted two Minnesota men in connection with the recruitment of Somali immigrants to fight with Islamic insurgents in their home country.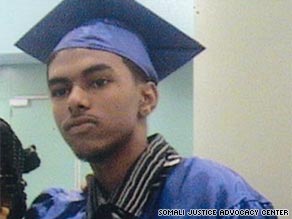 Jamal Bana is one of several missing Somali-Americans believed to have fought with an Islamist insurgency.
Salah Osman Ahmed and Abdifatah Yusuf Isse are charged with one count each of providing material support to terrorists and conspiracy to kill, kidnap, maim or injure people overseas, the indictment states. The recruiting effort took place between September 2007 and December 2008, according to the charges.
Ahmed also is charged with two counts of making false statements to investigators. According to the indictment, he told FBI agents that he had traveled alone on a flight to Somalia when, in fact, he and another person were going together "so that they could fight jihad in Somalia."
Ahmed was arrested Saturday, FBI Special Agent E.K. Wilson told CNN. Isse had been in custody for some time, said Omar Jamal, the head of the Somali Justice Advocacy Center in Minneapolis. Both were from Minnesota and in their 20s, Jamal said.
Jamal said Ahmed and Isse were "foot soldiers" carrying out the work of others, and that he expected more indictments "in a week or two."
The FBI has been investigating what appears to be a massive recruiting effort by the al Qaeda-linked Somali insurgent group al-Shabaab in immigrant communities in the United States. More than a dozen young men of Somali descent have disappeared from the Minneapolis area in recent months, and at least three have been killed in Somalia, community leaders have said.
The latest, Jamal Bana, was confirmed dead over the weekend, his family said Sunday. The same day, Somalia's president -- a former member of the Islamist movement himself -- issued a plea to Somali-Americans not to join the fight in his country.
"I am saying to those young men from abroad: 'Your families fled your home to America because of insecurity. You should not return here to foment violence against your people,' " President Sheik Sharif Ahmed said.
Al-Shabaab has ties to al Qaeda and has recruited foreign fighters to join its battle to overthrow the Somali government, U.S. officials said.
It remains entrenched in the northeast and in sections south of Somalia's capital, Mogadishu, after fighting that has uprooted more than 200,000 people since early May, according to the United Nations.
Wilson said the number of missing men believed to be in Somalia is "in the 10s," but their recruitment is "a significant concern and one that we're giving our highest priority."
In October, Shirwa Ahmed, 27, a Somali-American believed to have been radicalized by al-Shabaab, traveled from Minneapolis to Somalia and blew up himself and 29 others. It was the first suicide bombing by a naturalized U.S. citizen, and it raised red flags throughout the U.S. intelligence community and sparked an investigation by the FBI.
Burhan Hassan, a 17-year-old Somali-American high school student in Minneapolis, went missing eight months ago, around the same time as Bana. Last month, his family learned that he was killed in Somalia.
Neither family has any idea why the young males left the United States, where they came as young boys, and Bana's family believes he was being held against his will, said Omar Jamal, head of the Somali Justice Advocacy Center in Minneapolis.
"Only one time he placed a phone call [in mid-November], he didn't say much," Jamal said. "He spoke as if he was being held hostage. He couldn't be speak freely. They asked him to cut the conversation short."
Hassan's uncle, Abdirizak Bihi, said a fourth man -- 30-year-old Zakariya Maruf -- was killed Friday, but Jamal said Maruf may only be injured.
Maruf was the first of the missing Somalis to head overseas, said Bihi, who has become a spokesman for the families of the missing men. Bihi called him a "leader" whom the others consulted on travel plans.
Many of the missing Somali-Americans are believed to have left for Somalia when Ethiopian forces were still on the ground. Ethiopia invaded Somalia to push the Islamists out of Mogadishu in December 2006, but their presence in the country was an outrage to most Somalis and became a rallying cry for al-Shabaab.
Ethiopian troops left Somalia this year, leaving Ahmed's weak transitional government to battle the insurgents.

E-mail to a friend

CNN's David McKenzie and Tricia Escobedo contributed to this report.
All About Somalia • Al Shabaab