ATLANTA, Georgia (CNN) -- Former boxing champion Vernon Forrest is dead after being shot multiple times in a neighborhood southwest of downtown Atlanta, officials said Sunday.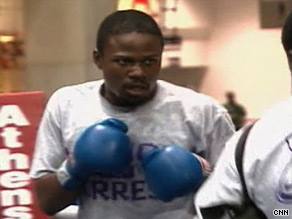 Police say they have no suspects in the death of former boxing champion Vernon Forrest.
An Atlanta police spokeswoman said it appeared that Forrest, 38, had been robbed, which led to a confrontation in which he was shot several times in the back.
Police had no suspects as of midday Sunday, said the spokeswoman, Sgt. Lisa Keyes.
Mark Guilbeau, senior investigator with the Fulton County Medical Examiner's office in Atlanta, said an autopsy will be conducted Sunday, and results are expected by afternoon.

Watch Forrest's manager react to his death »

Forrest was the International Boxing Federation welterweight champion in 2001, the World Boxing Council welterweight champion in 2002-2003, and the WBC light welterweight champion in 2007-2008 and 2008-2009, according to the BoxRec Web site.
He was named the World Boxing Hall of Fame fighter of the year in 2002, according to BoxRec.
E-mail to a friend

All About Boxing • Murder and Homicide