PLACERVILLE, California (CNN) -- A California couple charged with a combined 29 felony counts in connection with the kidnapping and rape of Jaycee Dugard appeared in court for a bond hearing Monday.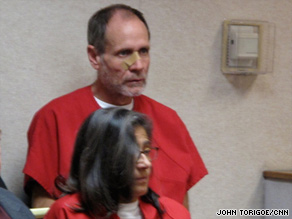 Phillip and Nancy Garrido appear in court in Placerville, California, on Monday.
Phillip and Nancy Garrido, wearing red jail coveralls, were flanked by their attorneys. They appeared to glance at each other only briefly. Phillip Garrido wore a bandage on the side of his nose.
The Garridos are accused of kidnapping Dugard in 1991, when she was 11, and keeping her in a well-hidden compound behind their home in Antioch, California, for 18 years. Phillip Garrido fathered two children with Dugard during her captivity, authorities have said.
The couple had been held without bail, but Phillip Garrido's defense attorney requested that bail be set for him Monday. El Dorado County Superior Court Judge Douglas Phimister set his bond at $30 million.

Watch the Garridos at the hearing »
However, El Dorado County District Attorney Vern Pierson told reporters after the hearing that Garrido, a registered sex offender, is also on a "parole hold," which carries no bond. A parole hold is placed on people on parole or under supervision when they are taken back into custody.
Nancy Garrido's attorney told Phimister that she was not contesting her no-bond status, although she might ask that bond be set in the future.
Both defense attorneys told the judge they wanted to make clear that their clients are invoking the right to counsel and do not want to be questioned. Phimister noted that "other agencies" are interested in interviewing the couple.
Phillip Garrido will undergo a psychiatric evaluation, a common step for defendants. Nancy Garrido's attorney said he was attempting to schedule one for her as well.
The two defendants spoke only once, answering "Yes," when asked by the judge if they were willing to waive their right to a preliminary hearing within 60 days.
Both Garridos previously pleaded not guilty to the charges. They face a combined 29 felony counts; 26 counts name only one of them -- 13 for each -- and both are named in three.
Phillip Garrido was convicted of kidnapping and raping a woman in 1976, and was released from prison after serving 10 years of a 50-year sentence. He was required to register as a sex offender and placed on lifetime parole.
Pierson acknowledged Monday that "very legitimate questions" have been raised about Garrido's release and supervision. "Those are issues which I'm confident will be addressed in a proper venue at a proper time," he said.
But Pierson praised Garrido's current parole officer for helping to bring about his capture, breaking through his "elaborate, well-planned cover story that was 18 years in the making." The parole officer summoned Garrido to his office after being tipped off by University of California-Berkeley police, who considered Garrido suspicious and questioned why he was on campus with two young girls. Those girls later were shown to be his daughters by Dugard.
As for Dugard and her family, Pierson released no details but said he echoed earlier comments, made by family spokeswoman Tina Dugard, that all family members are doing well under the circumstances. Professionals have been brought in to assist the family, he said.
Pierson pleaded with reporters to exercise "basic human decency" and leave Dugard's family in peace. "What this family has been through ... they have a lot to deal with right now," he said.
Asked about a possible statute of limitations on the Garridos' alleged crimes, Pierson said it was complicated, but prosecutors have examined the issue and "we're confident we're not going to have a problem in this case."
He said he did not know whether a grand jury would be convened in the case, and did not rule out additional charges against the Garridos. He would not speculate on when the two might stand trial, saying, "in a perfect world, the criminal justice system would move much more quickly than it does."
Both the Garridos, if convicted, would face "multiple life terms," he said.
After the couple was arrested in August, investigators used cadaver dogs to search their ramshackle home and the surrounding rural property for a possible connection to unsolved crimes.
A bone fragment that is "probably human" was found near the Garridos' home, a sheriff's spokesman said September 8. The bone was found early in September on a neighbor's property in an area to which Phillip Garrido had access.
The fragment, which was analyzed by an outside expert, will go on to the state DNA lab for testing, according to an e-mail from Jimmy Lee, director of public affairs for the Contra Costa County Sheriff's Office.
"The expert has determined that the bone fragment found in the backyard of Garrido's neighbor is probably human," Lee said.
"We will be requesting the state to see if it can develop a DNA profile on the fragment. It should be noted that it is not uncommon to find Native American remains in Contra Costa County," he said.
Police in Hayward, California, are trying to determine whether Garrido is linked to the 1988 kidnapping of Michaela Garecht, Hayward Police Lt. Chris Orrey said earlier this month.
Garecht and Dugard were of similar age and appearance, both were abducted in daylight, and a sketch of a suspect resembled Garrido, Orrey said.

In Dublin, California, investigators said earlier this month they were looking into whether Garrido was connected to the 1989 disappearance of Ilene Misheloff, who was 13 when she was abducted.
Garrido was convicted of kidnapping and raping Katie Callaway Hall in 1976. He was released from prison after serving 10 years of a 50-year sentence. He was labeled a sex offender and put on lifetime parole.
E-mail to a friend

CNN's Dan Simon and Rob Ade contributed to this report.
All About Phillip Garrido • Kidnapping • Missing Children • California