From Kiran Khalid
CNN





NEW YORK (CNN) -- Naiz Khan says he is exhausted and just a little scared.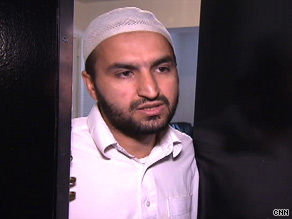 Naiz Khan says he barely knows Najibullah Zazi, a terrorism probe suspect who stayed in Khan's apartment.
Khan is a 26-year-old man whose rented apartment in the Flushing section of Queens was raided by members of the Joint Terror Task Force more than two weeks ago. He's entangled in a terrorism investigation, he says, because he gave Najibullah Zazi -- an Afghan man facing terrorism charges for allegedly planning to bomb a target in New York -- a place to stay when Zazi arrived in New York on September 10.
Khan is a former coffee-cart vendor who says he was due to fly to Pakistan to see his family when Zazi was arrested more than a week ago. That trip is indefinitely postponed. Khan says he has no job and is enduring intense media attention and constant surveillance by federal agents camped in the street outside his apartment building.
Zazi has been indicted on a charge of conspiracy to use weapons of mass destruction. Investigators say evidence will prove that he conspired with others to detonate improvised explosive devices within the United States.
Authorities say they found nine empty backpacks and a scale in Khan's apartment. Investigators say the items are of interest because backpacks were used in the London, England, and Madrid, Spain, mass transit attacks; scales are sometimes used to measure explosive ingredients.
Khan told CNN on Monday those backpacks belonged to his uncle, one of five men who live in the two-bedroom apartment. Khan says the backpacks were given to his uncle by a store that was "going out of business or getting rid of merchandise."
He said his uncle took them to give to relatives in Pakistan during his next visit.
"He wasn't the only one who took the book bags," Khan said during an interview inside his cluttered apartment. When asked about the scale, Khan said he had no idea of its existence.
"They [federal investigators] said they found it here, but I never saw it," Khan said. He added that JTTF agents who raided his apartment took his laptop computer and cell phone along with his roommates' cell phones.
Khan has said he knew Zazi only as an acquaintance from the neighborhood, someone he used to run into at the local mosque before Zazi left New York last year.
Khan says the scrutiny and suspicion has put a strain on him and his roommates.
He says he's caught up in something he doesn't understand.
"I barely knew [Zazi]. How was I to know what was in his mind?" he said.
"Your life can change without warning," he said, "and you are helpless."

E-mail to a friend

All About Najibullah Zazi • Terrorism