NEW YORK (CNN) -- A New York appeals court on Tuesday dismissed Dan Rather's $70 million lawsuit against CBS, in which the television news anchor accused his former employer of breach of contract.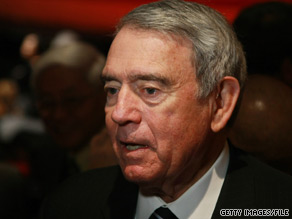 Dan Rather's lawyer said he would appeal the ruling
Rather filed the suit in 2007, claiming CBS made him a scapegoat when the network came under intense criticism over a September 2004 "60 Minutes II" story challenging then-President George Bush's service in the Texas Air National Guard during the Vietnam War. Immediately after the story aired, questions were raised about the accuracy of the reporting.
Rather, who narrated the disputed piece, became the target of fierce criticism from conservative partisans who believed the story was an attempt to influence the 2004 presidential race.
Six months later, Rather stepped down from the anchor chair he had occupied for nearly a quarter of a century -- a departure he said was not voluntary. Rather's suit alleged that management at CBS and its then-parent company, Viacom, shifted blame to him to pacify the White House and that on the day after Bush was re-elected, he was informed he would be removed as anchor of the CBS Evening News.
The appellate division of the state Supreme Court, in a unanimous ruling, found "the complaint must be dismissed in its entirety and that a lower court erred in failing to do so."
"Rather claims that, in effect, CBS 'warehoused' him, and that, when he was finally terminated and paid in June 2006, CBS did not compensate him for the 15 months 'when he could have worked elsewhere,' the ruling said. "This claim attempts to gloss over the fact that Rather continued to be compensated at his normal CBS salary of approximately $6 million a year until June 2006 when the compensation was accelerated upon termination, consistent with his contract."
Rather's claim of lost business opportunities because CBS failed to release him was "insufficiently supported," the court said.
CBS said it was pleased by the court's unanimous ruling. "CBS' position on each claim was upheld, as we have said they would be for the past two years," CBS said in a statement.
Rather's attorney, Martin Gold, said in a statement he was "extremely disappointed."
"We believe the decision is incorrect on a number of grounds and, accordingly, we intend to ask the New York Court of Appeals to review it."
E-mail to a friend

All About Dan Rather • CBS Corporation