By Matt Smith
CNN





DALLAS, Texas (CNN) -- Texas Gov. Rick Perry on Wednesday shook up the ranks of a state commission that is probing whether a man executed in 2004 belonged on death row, forcing the commission to delay a scheduled hearing on the case.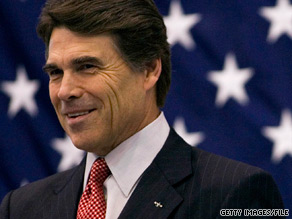 Gov. Rick Perry's office said the moves were a routine replacement of members whose terms had expired.
Perry replaced the chairman of the Texas Forensic Science Commission and refused to reappointment two other members. The moves came two days before the commission had been scheduled to hear from arson investigation expert Craig Beyler, the author of the latest of three reports critical of the testimony that helped prosecutors convict Cameron Todd Willingham of murder in 1992. The governor's office told CNN the moves were a routine replacement of members whose terms had expired.
Perry, who says he remains convinced of Willingham's guilt, replaced commission Chairman Sam Bassett with John Bradley, the district attorney of Williamson County, near Austin. Another member, Aliece Watts, was replaced with San Antonio forensic pathologist Norma Farley. Perry also did not reappoint Alan Levy, a prosecutor in Fort Worth's Tarrant County.
As a result of the shakeup, the Forensic Science Commission put off Friday's scheduled session with Beyler, who was to answer questions about his conclusions in a public forum. The commission "will need time to regroup and reorganize," its staff coordinator, Leigh Tomlin, told CNN.
Bassett said he had asked to be reappointed to the commission, but, "Obviously, Governor Perry had other plans." He would not say whether he thought his replacement was politically motivated, but added, "I'm worried the good work of the commission will get tabled."
Willingham was accused of setting a fire in his home in Corsicana that killed his three daughters. He insisted on his innocence until the end, and opponents of the death penalty say his case and the subsequent reviews may force Texas to admit it executed an innocent man.
The Beyler report concludes that findings at the heart of Willingham's conviction -- that the fire that killed his daughters was set deliberately -- "could not be sustained" by either modern science or the standards of the time. Two previous reports by other experts also concluded that the fatal blaze was not arson, but Beyler's is the first commissioned by the state.
In Ardmore, Oklahoma, where his family lives, Willingham's stepmother said she was "shocked and disappointed" by the postponement of Friday's hearing.
"What good is it going to be having a commission if they don't have the freedom to investigate and find out what really happened?" she asked.
But Corsicana police Sgt. Jimmie Hensley, the lead investigator in the Willingham case, dismissed the reports as "Monday-morning quarterbacking."
"I'm firmly a believer that justice was served," Hensley said.

E-mail to a friend

CNN's Ed Lavandera contributed to this report.
All About Capital Punishment • Rick Perry