By Edmund DeMarche
CNN





(CNN) -- Soccer mom Meleanie Hain, who made national headlines last year by having a loaded, holstered handgun at her 5-year-old daughter's soccer game, has been found shot dead in her home along with her husband, police said Thursday.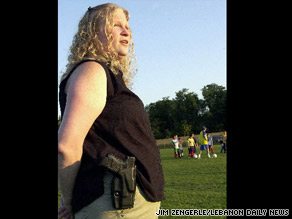 Meleanie Hain was found shot dead in her home along with her husband Thursday.
Information from 911 calls shows that it took a SWAT team nearly an hour and a half to gain entry to the Lebanon, Pennsylvania, home Wednesday evening. Inside, they found the bodies of Hain, 31, and her husband, Scott, 33, police Capt. Daniel Wright said.
Police have avoided labeling the incident a murder-suicide. However, they do not believe that another person was involved, Wright said. A full investigation is under way, he added.
"Who [Meleanie Hain] is does not change the course of this investigation," he said. The autopsies are scheduled for Friday.

Watch why Hain caused controversy »
Meleanie Hain's attorney, Matthew B. Weisberg, said she told him a few months ago that she and her husband were separating. It was not immediately clear whether they were still living together.
The couple's three children were unharmed and took refuge at a neighbor's house before police arrived, Wright said, and the children remain in a neighbor's care.
During the incident, police told neighbor Ann DiJohnson to avoid rooms with windows in fear of a possible shootout.
"It was frightening," DiJohnson said. "I'm still shaking."
Thomas Shaak, who lives a block from the Hains, said the couple hardly socialized with neighbors. The avid gardener said he occasionally saw Scott Hain working on his yard, but the two did not greet each other. He said Hain worked as a security officer and often kept odd hours.
Meleanie Hain became an overnight celebrity and, to some, a steward of Second Amendment rights when she carried a Glock strapped to her belt to her daughter's soccer game September 11, 2008.
Days later, on September 20, her permit to carry a gun was revoked by Lebanon County Sheriff Michael DeLeo, who claimed that she showed poor judgment at the child's game. County Judge Robert Eby later reinstated the permit.
Weisberg, Hain's attorney, said the sheriff's action violated Hain's First, Second, Fourth and 14th Amendment rights.
A lawsuit was filed against DeLeo on Hain's behalf for compensatory damages. She sought punitive and statutory damages, Weisberg said, along with reimbursement of attorneys' fees and lost wages.
Although Weisberg called the Hains a "loving" and "unified" couple, he said that about four months ago, Meleanie Hain told him that they were separating and that she wanted to remove his name from the $1 million lawsuit.

Although there was no indication of abuse, Weisberg said, Meleanie Hain was contemplating getting a "stay-away order."
"It's shocking," Weisberg said of the shooting. "And sadly ironic."
E-mail to a friend

All About Shootings • Gun Control