By Stephanie Chen
CNN





(CNN) -- Lavinia Masters was 13. She winced as the doctor swabbed her vagina for possible evidence. She watched as he put her underwear and purple nightgown into plastic bags, careful not to disturb any fibers or hairs.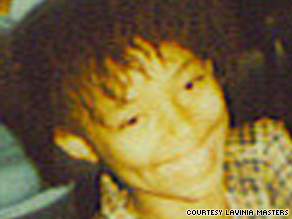 Lavinia Masters was raped by a stranger in her Texas home when she was 13.
It was a hot July night in 1985, and the Texas sixth-grader had been sexually assaulted by an unknown suspect.
This process -- collecting evidence for a rape kit -- lasted several hours and was "devastating." But just as difficult, says Masters, was the 20-year wait for that evidence to yield results.
Her rape kit sat idle until 2005, when the Dallas Police Department re-opened her case, as part of a new initiative to solve old crimes.
DNA testing had not been available when Masters was assaulted. But in 2005, police said they discovered the DNA in her kit matched DNA samples from a man who was already serving time in prison for unrelated crimes, including sexual assault.
But the suspect could not be prosecuted in Masters' case because the statute of limitations had run out.
CNN usually does not identify victims of sexual assaults. But Masters, now 38, decided to let her name be known to shed light on the issue of backlogged rape kits.
Government officials say many police departments and crime labs across the country are inadequately funded and overwhelmed, leaving many rape kits untested. Rape victims' advocates say leaving the kits untested suggests law enforcement agencies aren't prioritizing rape cases.
In Los Angeles, California, 7,495 untested rape kits were in the police department's system in October 2008, the department said. The rape kits may have the critical DNA that could lead to the arrest of offenders, exonerate those wrongly convicted and end the agonizing uncertainty for rape victims.

What's in a rape kit? »
Today, Masters and other rape survivors are pushing for police to process rape kits more rapidly and to test unopened rape kits that have accumulated over decades. They know what it feels like to have justice delayed.
"Having to wait is like pouring salt on the wound," Masters said. "To have DNA technology at our disposal is awesome, but we have to take advantage of it."
This week, DNA testing led local police and the FBI to a suspect in a 19-year-old rape case. Dennis Earl Bradford, a 40-year-old welder, was arrested in connection with the rape and attempted murder of Jennifer Schuett, 27, of Dickinson, Texas.
Exactly how many rape kits remain untested nationwide is unknown. No agency tracks those numbers, nor are there uniform national standards for testing or tracking the kits.
Some jurisdictions, such as New York City, require every kit to be tested. Others do not. From 2002 to 2005, the Bureau of Justice Statistics reported the number of backlogged crime cases jumped 24 percent to 359,000 cases. That figure includes rape cases, but the report does not break down the crimes by type.
The Los Angeles Police Department drew criticism last year over its backlog. By September, the LAPD reported the backlog had dropped to 2,937 due to an influx of federal grant money and the efforts of its DNA Task Force. The tested rape kits resulted in 405 suspect hits, according to law enforcement officials.
"There isn't anything about Los Angeles that is anomalous from any other major police jurisdiction," said Sarah Tofte, a researcher at Human Rights Watch.
In May, an analysis by the Chicago Tribune found more than 1,000 backlogged DNA cases in Illinois. The paper said nearly half of those were untested samples from rape kits. And last month in Houston, Texas, about 1,000 rape kits remained untested in labs, said Kese Smith, a spokesman for Houston Police Department.
"We're in much better shape than we have been in past years, but obviously, we don't think 1,000 is acceptable," Smith said.
Some agencies consider kits untested for more than 30 days to be backlogged. In some cases, rape kits have been tested too late, when the statute of limitations has already expired.
In recent years, the passage of state and federal laws requiring that DNA samples be taken from anyone who is arrested, not just convicted felons, have added to the backlog, critics say. At least 21 states have enacted such laws, according to DNA Saves, a nonprofit that pushes for broader DNA collection policies.
Top priority for testing involves cases in which a likely suspect has been identified or those that involve murder or children. Incidences involving a victim who is attacked by a stranger are usually given the next priority. Often kits from cases involving an acquaintance or spouse -- where the "he-said-she-said" dilemma arises -- aren't tested all.
Law enforcement agencies point out some women aren't willing to testify or don't want their rape kits processed. Officers in some communities say they are trying to be efficient when they process the rape kits, focusing first on those that can lead to a suspect or charges.
But advocates for rape victims urge women to be pro-active.
"The squeaky wheel gets the oil," says Kellie Greene, head of the advocacy group Speaking Out Against Rape Inc. "If you call a lot, and ask for updates on your case, those are the cases that move forward."
In New York City, where police started to process all rape kits after 2003, arrests rates jumped from 30 to 70 percent, according to Human Rights Watch.
There is some hope that the backlogs will diminish. The Los Angeles Police Department announced last month that $3 million would be dedicated to testing old rape kits. The Houston Police Department received $1.3 million in federal grants this month to help expedite the rape testing process.
And in 2004, Congress passed the Debbie Smith Act, providing more than a billion dollars to improve DNA testing procedures and reduce the backlog. Debbie Smith waited more than six years for her 1989 rape case to be solved because of a DNA database backlog in Virginia.

These improvements come too late for Lavinia Masters. She can not get back the 20 years she spent wondering about the man who raped her when she was 13.
In 2007, when her suspected attacker appeared for a parole hearing in an unrelated case in Texas, Masters gave phone testimony against his release. He remains incarcerated but may appear before the parole board again in spring of 2010. Masters intends to be there.
E-mail to a friend

All About Sexual Offenses • Federal Bureau of Investigation • Los Angeles