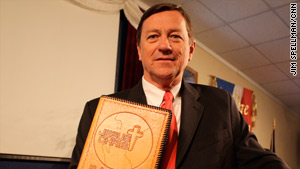 Kirby Lack, a minister, was wounded in a shooting rampage that killed 23 people in a Texas restaurant in 1991.
STORY HIGHLIGHTS
Kirby Lack was present during 1991 massacre at Luby's Cafeteria in Killeen, Texas

Site of attack, which killed 23, is not far from Fort Hood, where 13 were killed Thursday

Lack on Fort Hood attack: "It was just unreal that this was happening again"

Lack, a minister: A lot of prayer and love will get community through this
Killeen, Texas (CNN) -- It was an autumn afternoon in Killeen, Texas, when a lone gunman wielding two handguns methodically shot victim after victim. By the time the rampage was over, a terrified community was left looking for answers.
But this wasn't last week at Fort Hood; this was 1991, when a man named George Hennard crashed his pickup truck into a Luby's Cafeteria and went on a shooting spree that left 23 dead and another 20 wounded before Hennard shot himself.
One of those wounded was Kirby Lack, minister of a small local church. Thursday's shooting at nearby Fort Hood brought back memories of that day more than 18 years ago.
"He started shooting people, and I dove under a table and that's where we stayed," Lack recalled in an interview with CNN. "The biggest feeling was just helplessness."
Lack's lunch partner, veterinarian Michael Griffith, was the first to die. Lack, after being shot once in the back, played dead, lying face down on the floor and trying not to move. But the killer approached him again.
"He literally pushed the barrel of the gun to the back of my head and applied pressure. I said my last prayer. I thought my life was over and I was going to die and go home and be with God," Lack said.
Hennard pulled the trigger.

Video: Luby's shooting spree survivor

Video: Church services in Fort Hood
"There's the explosion and I'm thinking, 'Where's the tunnel? Where's the light? Where's Jesus?' And no one was there. I opened my eyes and looked around and realized the jerk missed me. There was a tear in the carpet a half-inch from my head."
Lack leads the same small non-denominational church -- Trinity Worship Center -- outside Killeen that he did on that day in 1991. As news of the shooting at Fort Hood spread, Lack had trouble believing another mass shooting could rock his community.
"As I was standing there watching this, it was just unreal that this was happening again. ... For the first three or four minutes it was like this flash feeling of heat that came over me," he said, "I'm flashing back to Luby's and I'm thinking of these poor people. They've got no place to hide."
Lack said he has moved on and refuses to let himself be defined as a victim.
"I believe very strongly that it's not what happens to you in life, it's how you respond to an incident like that," he said. "It's an incident in your life -- don't let it define the rest of your life. It happened to you. Let's find a way to get past it."
Luby's Cafeteria closed, and the building now houses a Chinese food restaurant. Lack says he eats there once a month -- most recently Friday night, the day after the Fort Hood shootings.
"I will not be conquered by the fear or by the building," Lack said.
So how has Lack managed to move on?
"You rely on your friends, your loved ones. You have to. You have to rely on the goodness of people. This one guy will taint a lot of other people. One bad guy doesn't make America," he said.
As a spiritual leader in the community, he suggests that victims of the Fort Hood shootings and their families look to their faith to get them through this difficult time.
"A lot of prayer, a lot of scripture and a lot of love. That's what going to help us get through this thing," Lack said.
He says he has been praying often since the shootings.
"I'm praying for peace. Praying for answers. Most of these people are never going to get the answers that are really going to give them the peace they need," he said. "They just need love, they need comfort, they need peace, they need some understanding."
But he has yet to pray for the alleged Fort Hood shooter.
"He's already prayed to Allah. I'll let Allah take care of him. I'm praying for my people, the good people here," Lack said.