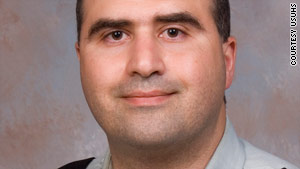 Maj. Nidal Hasan, 39, an Army psychiatrist and the sole suspect, was wounded in the November 5 shooting.
STORY HIGHLIGHTS
NEW: Department of Defense says charges make Maj. Nidal Hasan eligible for death penalty
NEW: Lawyer complains that Hasan given a "charge sheet" in hospital without counsel present
Hasan charged with 13 counts of murder, may face additional charges at court-martial
Hasan, who allegedly opened fire at post, and 12 others remain hospitalized
Fort Hood, Texas (CNN) -- Maj. Nidal Malik Hasan has been charged with 13 preliminary counts of premeditated murder stemming from last week's shooting at Fort Hood Army Post, an Army investigator said Thursday.
Army Criminal Investigation Command spokesman Chris Grey said the investigation continues and Hasan, 39, may face additional charges at court-martial.
The Department of Defense said the charges make Hasan eligible for the death penalty.
Grey said Hasan, an Army psychiatrist, remains hospitalized from gunshot wounds he received from two police officers who responded to the November 5 shooting.
Hasan is accused of killing 13 people -- a dozen soldiers and a civilian -- at the post's processing center, where soldiers were preparing to deploy to Afghanistan and Iraq.
Dozens of others were wounded, and 12 remain hospitalized, Col. John Rossi said Thursday.
Also Thursday, President Obama announced that he had ordered an immediate inventory and review of intelligence related to the shooting and to Hasan.
The results of this inventory and review, ordered a day after the shooting, will be given to John Brennan, assistant to the president for counterterrorism and homeland security, Obama said.
He said the preliminary results of the review will be due at the end of the month.

Video: Ft. Hood: Hassan 'acted alone'

Video: U.S. soldiers on Ft. Hood

Video: Getting out of the military

Video: 'Blood was just everywhere'
Investigators believe only one gunman was involved in the shooting -- the deadliest ever on a U.S. military base -- Grey said.
Hasan's civilian attorney, retired Army Col. John Galligan, said Thursday outside his office in Belton, Texas, that he had only just learned of the charges from the media.
"To think that -- as I was told, based on reliable sources -- that he was served with this charge sheet, in the ICU unit, without the presence of counsel, is disturbing," he said.
"If it appears that I'm a little upset, take it to the bank, I am," he said. He acknowledged that there was no legal requirement for him to have been present.
"I can't imagine what must be going through his mind, when he was served with those papers, in that environment."
He said he was heading to San Antonio, Texas, where Hasan is hospitalized at Brooke Army Medical Center.
"Given the nature of the offenses that these folks are talking about, it's probably going to be a long and difficult road," he said, referring to legal proceedings. "At the end of the day, regardless of the result, we should all be together as Americans and say that the law was properly applied," he said.
"I don't like the way the journey on that long road has started."
Hasan, a U.S.-born citizen of Palestinian descent, was scheduled to deploy to Afghanistan later this year, Rossi has said.
Investigators -- who said Hasan's communications with radical cleric Anwar al-Awlaki last year did not raise concern with terrorism investigators -- were looking into whether the major may have had connections with other people who might have been of concern.
Hasan came under investigation when his contacts with al-Awlaki were intercepted by terrorism investigators monitoring the cleric's communications, a federal law enforcement official told CNN.
The U.S. coordinator for counterterrorism, Daniel Benjamin, told CNN's Christiane Amanpour that the various investigating bureaus have said that the e-mails were "not a sufficient concern to open up an investigation." Benjamin said that the various investigating bureaus have said there don't appear to be any links to any outside groups in terms of "the operation itself."
Watch Amanpour and Benjamin discuss the Fort Hood case

He was simply a lone guy who had issues, problems, psychopathic behaviors that escalated ...
--Pat Brown, criminologist
An employee of the Defense Department's Criminal Investigative Services, assigned to the Joint Terrorism Task Force, ultimately decided to drop the investigation after reviewing the intercepted communications and Hasan's personnel files.
A former counterterrorism official said the information about Hasan's communications with the imam should have been shared with the military unless the FBI specifically forbade it.
Rep. Peter Hoekstra, the ranking member of the House Intelligence Committee, said Thursday that sources outside the investigation have told him that investigators are trying to determine whether Hasan wired money to Pakistan in recent months, and added that this is a credible development they are following.
However, Hoekstra said he has not received a classified briefing on the investigation. He did not provide further details about his sources or on the information.
Some people who knew Hasan describe him as a loner with few friends.
And one criminal profiler, criminologist Pat Brown, said the Fort Hood shooting suspect's profile is that of a loser and a loner.
"He was simply a lone guy who had issues, problems, psychopathic behaviors that escalated to the point where he wanted to get back at society, and he took it out on his workmates like most of them do," Brown said.
Clerics at the Dar Al-Hijrah Islamic Center in Falls Church, Virginia -- where Hasan attended when he lived in the area -- backed that profile.
He cared for his patients, and he cared for them well, and he was a valued member of our team.
--Col. Kimberly Kesling, Hasan's supervisor
Shaikh Shaker Elsayed said they were not successful in finding him a wife, and Imam Johari Abdul-Malik said that some people had said that Hasan changed after his mother's death in 2001.
Col. Kimberly Kesling, deputy commander of clinical services for Darnell Medical Center at Fort Hood and Hasan's supervisor at the post, told reporters last week that Hasan was doing a good job in Texas.
She said that some of his evaluation reports said that he had had some difficulties fitting in during his residency.
"We worked very hard to integrate him into our practice and into our organization, and he adapted very well, was doing a really good job for us," she said.
"He cared for his patients, and he cared for them well, and he was a valued member of our team," she said.
Kesling said Hasan had never expressed any difficulty with taking on his duties.
CNN's Aaron Cooper, Ted Rowlands, Barbara Starr and Brian Todd contributed to this report.