Feds drop manslaughter charge against one Blackwater guard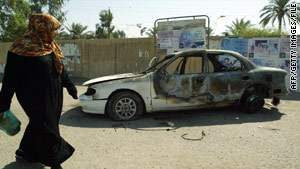 An Iraqi woman passes a burnt car on the site where Blackwater guards opened fire in western Baghdad.
STORY HIGHLIGHTS
Motion filed under seal to dismiss indictment against former guard Nicholas Slatten
Slatten is one of five men involved in daylight shooting at Baghdad traffic circle
Reasons for the decision not made public; incident led to limits on U.S. contractors in Iraq
Washington (CNN) -- Federal prosecutors in Washington announced Friday they will dismiss a manslaughter charge against one of the Blackwater contractors charged in a high-profile shooting incident in Baghdad, Iraq, two years ago.
Channing Phillips, acting U.S. attorney for the District of Columbia, said his prosecutors had filed, under seal, a motion to dismiss the indictment against Nicholas Slatten.
Reasons for the decision were not made public.
Slatten, of Sparta, Tennessee, is one of five former military men who were working as guards for Blackwater Worldwide when they engaged in a deadly daylight shooting at a traffic circle in Baghdad.
The September 2007 shooting left 17 Iraqi civilians dead.
The dispute over whether the incident was provoked raised tensions between the governments and military forces of the United States and Iraq, and led to limits on U.S. contractors operating in Iraq.
The prosecution has raised complicated legal questions because of statements made by some of the contractors before they were formally questioned by FBI investigators.
A sixth guard -- Jeremy P. Ridgeway, 35, of California -- pleaded guilty in December to voluntary manslaughter and attempt to commit manslaughter. Ridgeway has not been sentenced.
FOLLOW THIS TOPIC