STORY HIGHLIGHTS
Amanda Knox sentenced to 26 years, Raffaele Sollecito sentenced to 25 years
Knox, Sollecito together must pay 5 million euros ($7.4 million) to victim's family
Defense lawyer Carlo Della Vedova says Knox is upset, but staying strong
Perugia, Italy (CNN) -- An Italian jury has found American student Amanda Knox and her Italian boyfriend Raffaele Sollecito guilty in the stabbing death of British exchange student Meredith Kercher.
Knox was sentenced to 26 years in prison and Sollecito was sentenced to 25 years.
Both were convicted on all charges except theft and together must pay 5 million euros ($7.4 million) to the victim's family. In addition, Knox must pay 40,000 euros ($60,000) to a man whom she falsely accused of the killing.
Knox, wearing a lime jacket, her hair in a single braid, began to sob -- her sniffles and sobs punctuating the otherwise silent courtroom -- as the judge read the verdict quietly, without expression.
Few of the eight jurors looked at her. Six of the jurors were wearing red, white and green sashes -- the colors of Italy's flag.
Sollecito's stepmother cried out her stepson's name twice as he and Knox were led from the court.

Video: Meredith Kercher profile

Video: Knox's parents blame media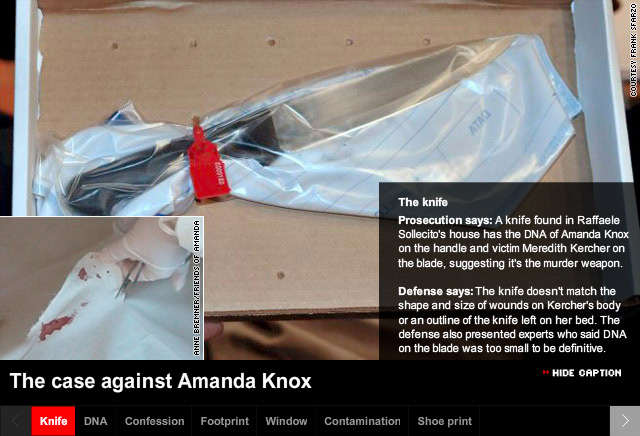 Interactive: The evidence

Timeline: The Amanda Knox case
Curt Knox, Amanda Knox's father, walked the four blocks from the courtroom to his hotel staring stonily ahead, holding his two tearful daughters by the hand.
He said nothing as they strode through the streets of the medieval town except "Move," when journalists got in his way.
"We are extremely disappointed in the verdict rendered today against our daughter," Knox's family said in a statement.
"While we always knew this was a possibility, we find it difficult to accept this verdict when we know that she is innocent, and that the prosecution has failed to explain why there is no evidence of Amanda in the room where Meredith was so horribly and tragically murdered.
"It appears clear to us that the attacks on Amanda's character in much of the media and by the prosecution had a significant impact on the judges and jurors and apparently overshadowed the lack of evidence in the prosecution's case against her."
Knox and Sollecito will appeal the verdicts, attorneys said.
After the verdict, Knox's lawyer, Carlo Della Vedova said his client was upset, but strong.
He would not speculate on the reason for the verdict.
"We have to see the motivation," he said, referring to legal paperwork the judge must file within 90 days to explain the jury's reasoning.
Her family was disappointed, but not surprised, by the verdict, Knox's aunt Janet Huff told CNN.com
"It was terrible, it was gut-wrenching just to hear them say it," said Huff, speaking from her Seattle, Washington, home.
"And to see the people outside the courtroom applauding -- that just made me sick that people can be that callous and cold."
Knox and Sollecito were charged with murder and sexual violence in the November 2007 stabbing death of Meredith Kercher. Knox and Kercher, both studying abroad, were roommates. A third suspect was found guilty in a separate trial.
Prosecutors argued Seattle, Washington, native Amanda Knox was a resentful American so angry with her British roommate that she exacted revenge during a twisted sex misadventure at their home two years ago.
They said Knox directed Sollecito and another man infatuated with her, Rudy Guede, to hold Kercher down as Knox played with a knife before slashing Kercher's throat.
British student Meredith Kercher was found dead in the home she shared with Amanda Knox.
Defense lawyers argued that Guede, who was convicted in a separate fast-track trial and is currently appealing his conviction, was the sole killer. On Thursday, Knox took the stand for a third time in the Perugia courtroom, telling jurors that she is not a "killer" who stabbed her former roommate.
"They say that I am calm. I am not calm," Knox said in Italian. "I fear to lose myself, to have the mask of the killer forced upon me. I fear to be defined as someone I am not."
Prosecutors touted an airtight case.
See the evidence that convicted Knox
They argued DNA on Kercher's bra clasp belonged to Sollecito. And the alleged murder weapon, a 6 ½-inch kitchen knife taken from Sollecito's home, had the DNA of Knox on the handle and Kercher on the blade, prosecutors said.
During the trial, the defense sought to cast doubt on the knife evidence, arguing it doesn't match the wounds on Kercher's body.
And they said the bra clasp with Sollecito's DNA on it was left at the crime scene for weeks and is so contaminated that the evidence can't be considered credible.
Knox's family has argued she has been the victim of character assassination.
Members of Kercher's family have declined repeated CNN requests for comment.
Prosecutor Giuliano Mignini accused the defense of "lynching" the Italian police who worked on the case.
Knox and Sollecito have been jailed for more than two years. The trial began in January in Perugia, a university town about 115 miles (185 kilometers) north of Rome.
CNN's Paula Newton in Italy contributed to this report.