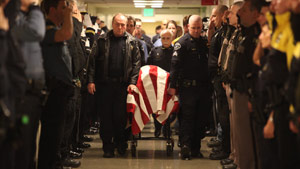 Police officers escort the body of their slain colleague, Deputy Walter "Kent" Mundell Jr.
STORY HIGHLIGHTS
Nonprofit and officer support group say 125 law officers killed line of duty this year
49 died in shootings, 56 in traffic, 16 in "physical-related incidents," 4 in copter crashes
Report says 39 officers shot, killed in 2008
Deaths are down from 133 in '08, National Law Enforcement Officers Memorial Fund says
Washington (CNN) -- Six police officers or deputies shot to death in the Seattle, Washington, area since October 31 reflect a troubling trend highlighted by a report released Tuesday.
According to preliminary information compiled by the National Law Enforcement Officers Memorial Fund, the number of law enforcement officers killed by gunfire in 2009 increased to 49, compared with 39 in the previous year.
The latest casualty was a Pierce County, Washington, sheriff's deputy wounded last week in a shooting during a domestic dispute. He died Monday after being removed from life support. Deputy Walter "Kent" Mundell Jr., 44, was the sixth police officer in the Seattle area shot to death since October 31.
Overall, the numbers are more encouraging, according to the NLEOMF report. From January through Tuesday, 125 law enforcement officers had died in the line of duty, down from 133 in 2008, the group announced.
It would be the lowest annual figure in a half-century, said the nonprofit, which released the report in conjunction with Concerns of Police Survivors Inc., a group that supports slain officers' families and co-workers.
"This year's overall reduction in law enforcement deaths was driven largely by a steep, 21 percent drop in the number of officers killed in traffic-related incidents," said Craig W. Floyd, the NLEOMF chairman and CEO. "However, that bit of good news was overshadowed by an alarming surge in the number of officers killed by gunfire."
In 15 of the shooting deaths, which occurred during five incidents, a single assailant killed more than one officer, according to the report. The multiple-fatality shootings included the killings of four officers in Lakewood, Washington, on November 29.
A little more than three weeks later, Mundell and his partner, Sgt. Nick Hausner, responded to a domestic dispute between two brothers, authorities said. As the deputies entered the residence, one of the brothers, David E. Crable, shot and wounded both officers, authorities said.
Critically wounded, Mundell returned fire, killing Crable, police said. Both deputies were rushed to area hospitals. Hausner has been released, but Mundell's wounds were severe and he was placed on life support with little hope of recovery, police said.
Mundell, a nine-year veteran, left a wife and two children, a 16-year-old and a 10-year-old, according to a sheriff's department release.
In another shooting, Seattle police officer Timothy Brenton was killed on Halloween night while sitting in his patrol car. Brenton, 39, was reviewing paperwork from a traffic stop when someone fired into his patrol car. An officer Brenton was training was wounded.
Floyd said that more than 1,600 law enforcement officers have been killed in the line of duty over the past decade.
"Many of the cold-blooded career criminals our officers confront each and every day do not think twice about assaulting or killing a cop," Floyd said.
A news release on the report said 56 officers have been killed in traffic-related incidents in 2009, compared with 71 in 2008. So far this year, 40 have been killed in automobile crashes, 12 have been struck and killed by automobiles while outside of their own vehicles, and four have died in motorcycle crashes, the release said.
Of the other 20 deaths in 2009, 16 were from "physical-related incidents" and four were from helicopter crashes.
Even with the decline, traffic incidents remained the leading cause of officer fatalities for the 12th year in a row, the release said.
It noted that the decade of 2000-2009 had lower fatalities for law enforcement officers than previous decades, despite the 72 officers killed in the terrorist attacks of September 11, 2001 -- the deadliest single day on record.
States with the most officer fatalities were Texas, with 11, followed by the nine in Florida and eight in California, according to the release.
The overall figures include six federal law enforcement officers killed in the line of duty in 2009, including three special agents with the Drug Enforcement Administration who died in an October helicopter crash while conducting counter-narcotics operations in Afghanistan, the release said.
All but one of the officers killed in 2009 were men; the lone woman was Tina Griswold, one of the four Lakewood, Washington, officers ambushed in a local coffee shop, the release said. By contrast, nearly 10 percent of the officers killed in all of 2008 were women, the highest percentage in history, it said.
CNN's Tom Cohen contributed to this report.