By Elizabeth Cohen
CNN Senior Medical Correspondent





(CNN) -- Nursing is supposed to be a calming, tranquil time for a newborn, but when Deb Kruse-Field put her son, Luke Field, to her breast, instead of cuddling up and eating, he arched his back and screamed.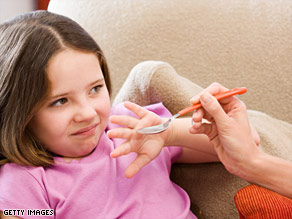 Several alternative treatments have been shown to be safe and effective for kids, experts say.
"We would both end up miserable," says Kruse-Field. "And he started eating less."
Kruse-Field tried everything she and her pediatrician could think of to help Luke. She cut out foods from her diet that could be irritating her son's stomach, such as dairy, soy and chocolate, and her doctor prescribed medicine for his acid reflux. Both helped, she says, but Luke was still gassy, had diarrhea and spit up frequently.
Frustrated that Luke was still in pain, his parents, who live in Madison, Wisconsin, were nonetheless reluctant to take their baby to see more doctors. They'd gone that route when their older child, Anna, had stomach problems, and nothing the specialists recommended worked terribly well.
But then a family friend suggested they contact Dr. Adam Rindfleisch, a University of Wisconsin family doctor who specializes in integrating traditional Western medicine with alternative medicine.
Rindfleisch suggested probiotics -- "friendly" bacteria that he says have been shown to help babies and children with diarrhea. While probiotics didn't cure Luke, Kruse-Field said, they seem to have helped.
Now she says she wonders why doctors didn't suggest probiotics for Anna. "We went to multiple specialists, but no one mentioned alternative medicine. I actually asked about probiotics, and they didn't know anything about them," she says. "And when we went to to naturopathathic or homeopathic doctors, they didn't know anything about traditional medicine."
For Kruse-Field, finding a pediatrician who knew about both approaches -- traditional and alternative -- was crucial to solving Luke's stomach problems. While not everything billed as "alternative medicine" is suitable for children, there are several alternative treatments that have been shown to be safe and effective for kids. Here are five of the top ones.
1. Probiotics for diarrhea
"These are incredibly safe," Rindfleisch says. "We've even used them on preemies with gastrointestinal issues."
He recommends finding a probiotic designed especially for children, adding that kids who are severely immune-compromised, such as those with end-stage HIV, shouldn't take them.
The Web site for the Consortium of Academic Health Centers for Integrative Medicine, or CAHCIM, has information about using alternative medicine to treat diarrhea.
2. Chamomile tea for colic
In many cultures, from the Middle East to Latin America, parents give chamomile tea to their cranky babies. "What that tells me is that over thousands of years, people have figured out that it works," says Dr. Sandy Newmark, who's on the faculty at the Center for Integrative Medicine at the University of Arizona.
Newmark recommends steeping a teaspoon of dried chamomile, or a tablespoon of fresh, in hot water for five to 10 minutes. Cool it off and then give the baby a half an ounce to an ounce every few hours in a bottle, spoon or medicine dropper.
For other information on treating colic with alternative medicine, go to CAHCIM's site.
3. St. John's wort for mild to moderate depression
When her teenage patients get depressed, Cora Collette Breuner sometimes suggests they take the herb St. John's wort. She recommends 300 milligrams three times a day for teenagers. Breuner, an associate professor of pediatrics and adolescent medicine, says the herb should not be used for depression for children under 13.
The CAHCIM Web site has more information about alternative medicine and depression.
4. Fish oil for eczema
Omega-three fatty acids, which are found in fish oil, have an anti-inflammatory effect, which can help with eczema. Rindfleisch recommends starting with 500 milligrams to 1 gram per day.
Health Library
5. Fish oil for asthma
Newmark says a brand made especially for children will recommend the right dosage on the label.
The most important thing, the experts agree, is to find a doctor who is open to and knowlegeable about alternative medicine. As Kruse-Field found out, that's not always easy to do.
To locate one, visit the American Academy of Pediatrics Web site, put in your location and in the pull-down menu opt for a pediatrician in the Section on Complementary, Holistic & Integrative Medicine. You also can go to the CAHCIM and click on your state. Many centers listed are for adults, but you can call and ask if they know of a pediatrician or family doctor who has an interest in alternative medicine.
E-mail to a friend

CNN's Jorge Baron contributed to this report.
All About Asthma • Eczema • Depression • Diarrhea