By Madison Park
CNN






(CNN) -- It's halfway through January and your initial enthusiasm for those fitness resolutions may be waning.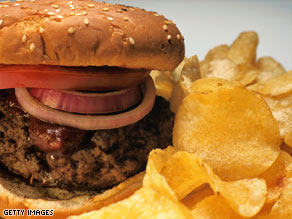 People grappling with diets often eat until their plate is clean, rather than when they feel full.
After maintaining an austere, healthy diet for a few weeks, the desire to eat a juicy cheeseburger proves too irresistible for some dieters.
"It's natural that most people when they are following a New Year's resolution or any program to change something in their life, that they will fall off the wagon or they'll have a setback or a failure," said Jillian Michaels, a personal trainer for NBC's show "The Biggest Loser."
Rather than beating yourself up after having a setback, learn from the missteps, experts say.
It's a matter of attitude, Michaels said. Learn from the setbacks and view "a failure as a point of learning, an opportunity to see what works and what doesn't."
For those grappling with diets,striving for moderation is a constant battle.
House Call
Learn the top changes you need to make or break bad diet habits in 2009
8:30 a.m. ET Sat. & Sun.

"We eat with our eyes, not out of our stomach," said Dr. Melina Jampolis, the diet and fitness expert for CNNhealth.com. "It's much more difficult to control serving sizes."
People have a tendency to keep eating until their plate is clean or the container of cookies is empty.
"A lot of people eat too much and their clothes feel tight. You shouldn't have to unbutton your pants, blouse or unzip anything after your meal," said Cheryl Forberg, the nutritionist for "The Biggest Loser." "You lose sight of your body's natural hunger cues."
To become more attuned to your body, avoid eating while standing up, sitting at the desk or inside a car, she said. Dedicate time for meals and snacks.
Rather than viewing meals as an obligatory part of the day, "learn to enjoy the process. At the same time, you begin to stop eating when you're comfortable, instead of when you have to unzip your jeans," Forberg said.
Avoid stocking problem foods like cookies or ice cream in the house if you know you can't resist them.
"When you know you have a weakness with chocolate or cookies, you probably shouldn't keep it in the house if you know you can't stop at one," she said.
One way to retrain the body is to divide snacks by portion sizes.
"Those 100-calories packs retrain people to the eye and decrease the snacking," Jampolis said. "It's more expensive and not environmentally friendly, but you're much better off getting a 100-calorie pack rather than eating out of container."
"If you're on a budget and you want to be more environmentally friendly, make your own. Every Sunday, measure 100 calories into seven Ziploc bags," she said. You can even recycle the bags.
E-mail to a friend

CNN medical correspondent Judy Fortin contributed to this report.
All About Healthy Eating • Diet and Nutrition